Dubai- The Diamond in the Desert
Dubai certainly is the place for every kind of person, no matter for what they are searching. It becomes cosmopolitan and architecturally majestic, turns upside down, and makes its name in the world as a global city. An amalgam of Skyscrapers based on modern technology, a cluster of Palm Islands, and some of the world's largest shopping malls. Hotels in Dubai has everything of every kind and for every kind of person. 
Covered by infinite deserts from all sides, Dubai is perfectly becoming the futuristic hub of progress for the Middle East and the United Arab Emirates. All with the Yachts in the house's backyard in the main area of Marina, along with the man-made Burj Khalifa Laje spread over 30 acres and its fountain that acts like a cherry on the cake. This fountain is regarded as the World's largest dancing fountain, seeing which all the tourists might forget that they are in the middle of a desert. 
What to do Mainly in Hotels in Dubai?
Relax on a beautiful sandy beach while resting on the sun loungers by holding a drink in your hand, exploring the local market, and learning more about the culture of the Dubai desert. Get familiar with the stuff that runs mostly in the market of Dubai. Don't forget to make a stop at the Observation deck of the Burj Khalifa to witness and admire the marvelous beauty of the city over an area of 452 meters. 
Dubai is not limited to here as they have several other things to offer, like royal camel races, hot air balloon fights, monster truck or buggy races on sand dunes, and skiing on the snow. Ensure that you try the local cuisine delicacies, and if you have a deep interest in food, you must visit the Spice Souk, which is notable for the species that grow here. 
Reaching the city center of Dubai is quite easy from Dubai International Airport and Sharjah International Airport. No matter what you are looking for, whether it is a captivating resort, a beach-facing suite, or maybe an independent Villa with a swimming pool, Tours N Travel Pro has everything for you under one roof. They will ensure you get the perfect accommodation for yourself in Dubai. 
When you have the urge to feel Dubai more before visiting this place, you must perceive the next facts about Dubai that will enhance your knowledge about Dubai, and you'll feel how it differs from all other places. Understand the Vibrancy and Aura of the place as it is indeed a fact that Dubai is no less than a place about which people dreamt of. 
1. Eminent as the Tallest Building, but Fewer People know it is Based on a Flower.
Surely, no one needs the introduction to Burj Khalifa as it is the World's tallest building at 2716 feet. A major icon is located in the Skyline of Dubai. If Burj Khalifa is not on your bucket list of places to visit in Dubai, it is not yet completed. Head straight to the 148th floor to take the astonishing view of the city. Then visit the 123rd floor to chill with a mocktail in hand. Few people know that the design of this building is dependent on a local desert flower, i.e., hymenocallis, also regarded as Spider Lily. A three feet bases or lobes is there that act as complementary stuff, which is the base of the Burj Khalifa and enhances the shape of the flower. 
2. It was all a Desert 20 to 25 years Back
 Just see the city's current condition and how it evolves; you will not stop yourself from admiring the vision of the rulers of Dubai. The first person behind all of this who takes the first step forward is Sheikh Rashid, Who thought about this when the oil finished out. And Sheikh Mohammed is the man behind the current appearance of Dubai. It only becomes possible with the vision of this person that it turned into a global epicenter. 
 No one denies that they find something new whenever they come to Dubai. Dubai changes in every moment and is walking gradually toward progress to attain soaring heights. It is not a wonder that you came after some time for a visit and you'll find something new or different.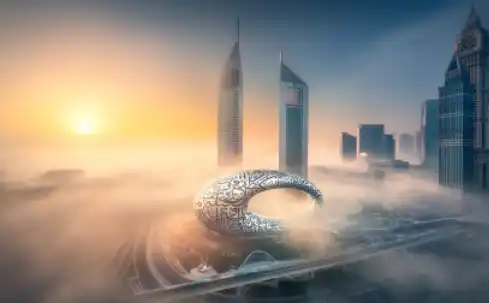 3. Home to the Largest man-made Islands
Ever heard of the name "Palm Jumeirah" as it is the largest artificial island in the world? In 2007, Palm Jumeirah became possible by two sides, i.e., Van Oord and Boskalis; both are Dutch Specialist companies. An archipelago of artificial islands involving both Palm Jebel Ali and Palm Deira and by this, the shoreline of Dubai gets stretched out to 320 metres. Palm Jumeirah is no less than a haven for all tourists, as nothing exists that is not here.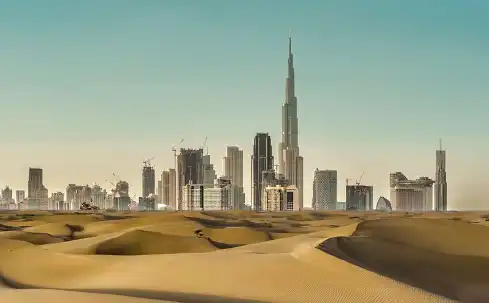 4. Witness Robot Jockeys in the Camel Race
Camel races are a renowned event in the region of the Middle East. Using the robots as the Jockeys in the camel race is to put an end spot on the process of using Children as Jockeys. It happens mostly because of the children's size, and for this, they get trafficked and have to face a lot of abuse that will lead to the extinction of this camel race. 
 So Qatar came up with this solution and devised children-sized robots controllable by remote, used in camel racing. By this only, it remains a multi-millionaire dollar sport in this region till now. 
How to Locate Some of the Best Cheap Hotels in Dubai?
There are some tips available: You can book your stay in 5 Star hotels in Dubai for a minimal price. If you are not aware of those tactics till now, then go through them,
The first thing everyone needs to do is perform the right amount of research and not flutter in making any decision. To grab the right deal for yourself, you should look out for the best hotels in Dubai on multiple platforms so that you will sort out one ideal deal for yourself. 
No need to plan a trip to the place in the season that is most preferred. Every year, a span exists out there in which a large number of people will take visit to a certain place because of some festival, occasion, and event. So, plan your trip at the time when there remain fewer people. If you want to have cheap 4-star hotels in Dubai, remember to visit Dubai in the summertime, i.e., June to August. 
The hotels' prices depend on too many factors, and the most prominent one is the day. Choose the day on which not more tourists will visit Dubai so that you can find the best luxury hotels in Dubai at a lower price. You should go to complete the booking of your stay for Tuesday as most people get free on Friday and then book hotels for the weekend. 
Remember to look out for new hotels or explore those hotels that are new projects by some of the recognized chains of hotels. As they will offer you a great amount of discount because they want to make some customers for themselves so people will come here and explore. And by seeing this only, all others will take a step further to make their booking in your place.
Venues for the Best Cheap Hotels in Dubai
To find the best hotels in Dubai, don't roam anywhere randomly in Dubai. Put your eyes on these specified locations and pick anyone. When done with that choice, proceed further with exploring the hotels in that area.
Amusing Facts about Hotels in Dubai
| | |
| --- | --- |
| Number of Accommodation in Dubai | 18,449 is the number of properties available all over in Dubai including hotels and resorts. |
| Most popular hotel in the entire Dubai | Gevora Hotel that is also known to many people as it is the tallest hotel in the whole world |
| Renowned areas among all | Dubai Marina |
| Rates for a night to stay in any of the average hotel in Dubai | $5 is the general charge that everyone have to pay to spend their night in Dubai |
| Airport that is mostly used by the masses | Dubai International Airport is the airport where all the flights lands and mostly flights take off |
| Primary reasons to take a visit | Mainly for shopping, to take a visit to the beaches, sightseeing |
Frequently Asked Questions
No one can point out that some locations of Dubai are better as this place is full of treasure, like it is locked inside a trunk. But, if we go by the likes of the people, the places that came up for sightseeing are Bur Dubai, Jumeirah Beach, and Palm Jumeirah.
We filtered out that Monday is the day you can attain the cheapest deal for yourself. And the most expensive day seems like Thursday.
The expected temperature in Dubai in June is about 35°C, but it is not the hottest month in Dubai. As it is August, which has an average temperature of 42 °C. On the other hand, January is the coldest month with a general temperature of 15 °C. And Dubai also witnesses rain in January, and May's driest month.
Some hotels exist near Burj Al Arab that comes under the category of the best cheap hotels in Dubai. It includes the name of the hotels like Burj Al Arab Jumeirah, Jumeirah Al Naseem, and Madinat Jumeirah Living.
A number of the best luxury hotels in Dubai offer a breakfast that is so rich and can make you start your day with full power. Remember the name if you are going to Dubai and need to stay in the same one. These hotels are The Dubai EDITION, Five Jumeirah Village, and Raffles Dubai.