Emirates Airways Unaccompanied Minors Policy.
Emirates Airways is a branch of the Emirates group. It is the world's third largest airline brand by scheduled revenue passenger-kilometers flown.
With its headquarters in Dubai, Emirates Airways is known for its world-class services. It is one of the best airline service providers in the Middle east. They operate almost 3,600 flights per week in more than 80 countries across all continents.
Besides that, Emirates Airways is certified as a five star rating airline by APEX officials. They have a perfect set of staff on the ground as well as in the cabin. Their food, seats, cleanliness, and amenities, everything is at their best to make your journey memorable, and comfortable.
Apart from this, Emirates Airlines also assists your kids in traveling without a guardian. With its Emirates unaccompanied minor service, they allow your kid to travel by themself. However, they have some terms & conditions which should be fulfilled.
They even have a policy named "Emirates Airways pet policy" to help you in traveling with your pets.
Here, we are providing you with a proper analysis of what you need to do to book a flight for your Unaccompanied kid, and travel with your pets with Emirates Airways. The terms & conditions are also mentioned so that you will not be stuck in a difficult condition.
Emirates Airways Unaccompanied Minors Policy
According to Emirates Unaccompanied minor policy, a kid must be at least five years old to travel alone.
Children between 5 to 11 can easily fly by themself with Emirates, but they have to pay an adult fare. The same rule applies to a child traveling on the same flight but in a different cabin from their guardian.
The kid is considered accompanied if only they are flying with their guardian, who is above 15 years old, in the same cabin.
Passengers between 12 to 17 can ask the airline before signing up for the Emirates minor traveling alone program.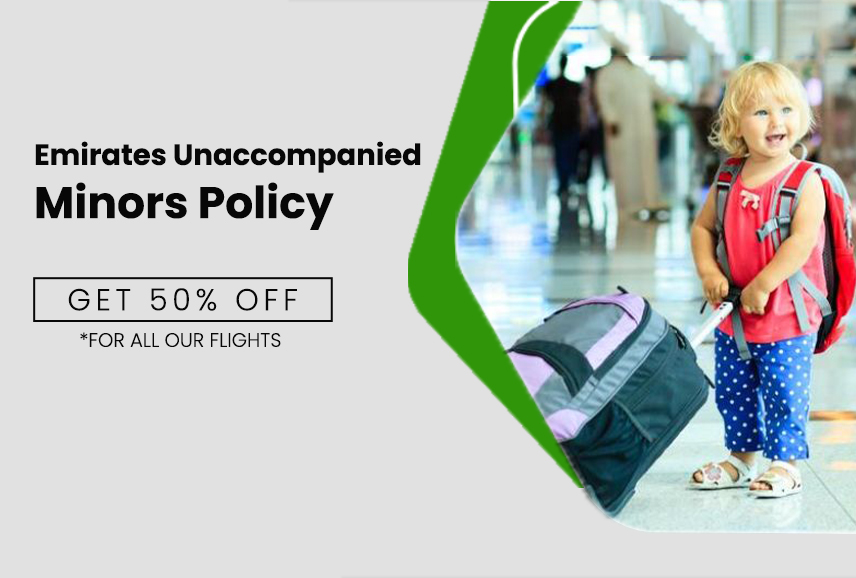 Compulsory Terms, and Conditions for Minors Traveling Alone
You must follow the given set of rules before booking flights for your minors
 The service is only for kids above five years.
If the child is connecting to another airline as a part of their journey, the connection time should not exceed more than 4 hours.
If the child is getting transferred to another Emirates flight at Dubai International airport, the maximum connecting time is 8 hours.
An unaccompanied minor can't spend the night at the airport. This can only be possible if a guardian is arranged to meet them at the transit point.
Children who need special care must be accompanied by a guardian who is 18 years old, or above.
A 'Declaration of Indemnity' should be signed by the parents, or guardian before the child flies. This declaration form will be regarding the child's safety, and protection.
The parents, or guardians must be at the airport until the flight departure.
The parents, or guardians need to be available at the airport to pick up their child.
Emirates Airways Pet Policy
With Emirates Airways' pet policy, pets are invited to travel in cargo, or as checked baggage (if not too large, to fit under the seat).
Though the Emirates Airways international flights have some mandatory rules to follow when flying with pets. For example, no other pets are allowed in cabin crew except falcon, that too between specific locations.
To help you with these rules, we have made a guide for you to go through before your flight. 
Rules to be followed
No birds (except falcons) can transit via Dubai between May 1, and September 30 as per Emirates Airways pet policy 2022. It is because of the high heat weather condition.
No pets are allowed in the aircraft's cabin except guide dogs for blind people.
Dogs, and cats below four months are not allowed to travel.
Dogs breeds like English, and French Bulldogs will get permission to travel between October 1, and April 30 only.
Pets with dimensions more than 300 cm must be transported as cargo.
As per Emirates Airways' pet policy, the staff may ask you to transfer your pet to the cargo if you are traveling with a pet other than a dog & cat, or if your pet is a warm-blooded animal, or if the flight is of long duration.
Charges to be Paid
Before going further with your reservations, you must know about the charges you will pay in both scenarios.
Fee for Unaccompanied Minor
The charges are paid at the counter of the airport at the time of check-in. It will be 50 USD for each leg for the children between 05-11 years. The same amount is paid for the children of 12 to 15 years too.
Fee for pets
The charges for pets vary with the weight of the pet. The cheapest is around 500 USD for pets up to 23kg.
In a Nutshell
For sure, You must be worried that your child is flying alone, miles above the ground, but with Emirates Airways' unaccompanied minor service, you don't need to worry about it. Just make sure about a few details, like the kid's mental condition, comfort, and the duration of the flight. 
Other than that, if you are planning to travel with your pet, make sure to inform the airways staff at least a week before your scheduled departure. 
If you are still confused even a bit, you can contact us, and clear your doubts.