Complete Guidebook on Frontier Airlines Cancellation Policy
No matter if you made your flight reservations online or from the airport, every airline lets you cancel them if necessary. However, what makes each airline different from the other one is its cancellation policy. These ensure transparency and clarity between an airline and its flyers.
A cancellation policy is a piece of document that holds all the terms and conditions that an airline draws upon its customers. From cancellation fees to refunds, one can get to know about everything about an airline there.
Flying people in and around 116+ destinations worldwide, Frontier Airlines is an ultra-low-cost carrier in America. Similar to its competitors, it also has Frontier Airlines Cancellation Policy available on the official website.
Let us take you through the policy in detail. This way, you will be able to understand each clause clearly and can avoid spending loads of money on your booking terminations.
Frontier Airlines Cancellation Policy
According to Frontier Airlines Cancellation Policy, a passenger can claim a one hundred percent refund, without any penalty, under the following circumstances:
24-Hour Flight Cancellation
First, you need to make sure that you buy your reservations at least 168 hours (a week prior to the date of departure).
If you have done the same, then the airline lets you withdraw your Frontier Airlines reservations in the first 24 hours of purchase.
The airline will not deduct any cancellation penalty on these terminations.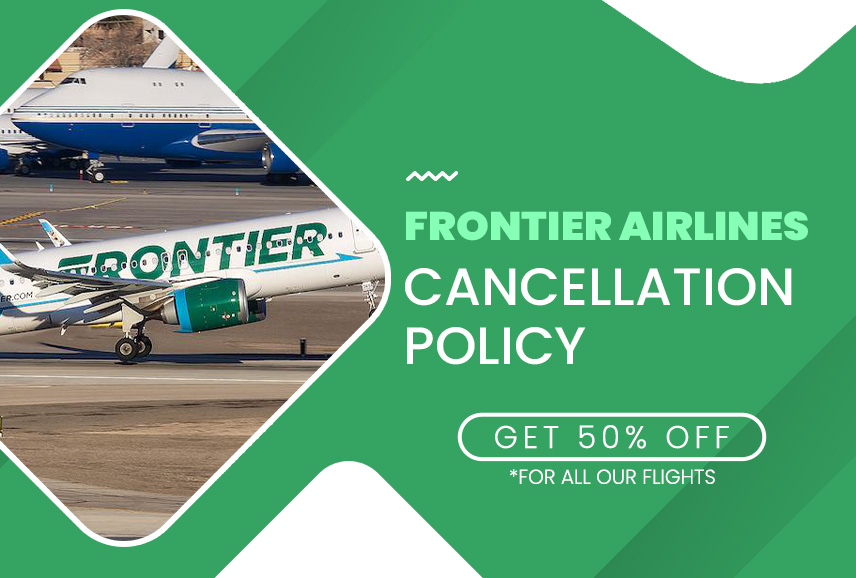 Flight Schedule Changes from Airline's End
In case the airline cancels a flight, then a flyer can claim a free seat or a complete refund of his booking fare.
Also, when the airline delays a flight for 3+ hours, then it refunds your money back to your original method of payment.
The fare of a flight with any change in the schedule that doesn't fit your preferences is refundable.
If your visa doesn't get approved or the airline declines your boarding on a confirmed ticket, ask them to provide you with your money back.
Cancellation Fees
Owners of non-refundable flight reservations are charged a fee if they miss the 24-hour safe zone cancellation.
It is also applicable if you change your plans on the departure day.
Here is what Frontier Airlines cancellation fee structure looks like:

Within 24 hours of booking: Free
60+ days prior to the departure: Free
Cancellations in-between 59-7 days to the take-off: $49
Change of plans in the last week: $99

Any cancellation fee is deducted from the flight fare, and the rest is sent back.
Exceptions to the Penalty
In case of the demise of the person flying with you
People canceling bookings due to jury duties
Serious illness of the passenger or his co-passenger
In any of these cases, the airline needs to see proof to offer you a refund.
Refund
Frontier Airlines credits the money on the cancellation of a refundable ticket.
Frontier Airlines takes around 5-7 working days to transfer the amount.
If you have any more questions, you can contact Tours and Travel Pro executives, and we will clear your queries.
Frontier Airlines Flight Cancellation Process
However, you can terminate your existing Frontier Airlines reservations from the airport or by calling the airline directly, but the most efficient way to do it is online. It hardly takes a couple of minutes, and you can do it from the comfort of your bed.
To initiate the procedure, run Frontier's official site on your system.
There, you will see a green column with a few empty spaces.
Go to that and click on the My Trips/Check-In option from the menu.
Thereafter, fill in the fields with your family name and the confirmation code of your reservation.
In case you do not know your confirmation code, you have an option in the bottom left. Click on "Find your Confirmation Code." The airline will provide you with a guide to locate it.
Once all that is done, hit the Search button, and you will have your flight details on the following page.
Furthermore, select the booking you wish to terminate and hit the Cancel Flight button beside it.
The airline will ask for confirmation in a prompt window before it goes through the process.
Hit yes, and that is it. Don't forget to claim your refund separately (if any).
Claim your Frontier Airlines Cancelled Flight Refund
In order to claim your flight fare back, you need to fill out the Frontier Airlines refund form. To do so, follow the steps jotted down below:
First, you need to access the form. For that, you can either go to Manage Trips or head to https://flyfrontier.custhelp.com/app/refund_request.
You will be directed to the refund form directly.
Here, fill in all the empty fields with utmost precision. It will have four major sections, namely:

Note to passenger
Purchaser Information
Original Ticket Information
Contact Information

After you type in every detail, hit the Continue button, and your application will proceed to the airline.
Remember, in case of any incorrect information; the airline will request you to make the changes and submit it again.
Wrapping Up
Everyone changes plan, and this is why airlines come up with various policies to eliminate anyone's loss. This post talks about Frontier Airlines cancellation policy. We hope you now know when to terminate an existing booking without facing loss.
Got more doubts? Contact our team, and we will assist you with our best services.