Handbook For Emirates Check-In
Long queues, waiting hours, and a lot more hustle come along with airport check-ins. Well, hold your horses; we have some good news for you. To keep up with the pacing world, airlines have also welcomed new ways to make their audience's experiences user-friendly.
Emirates Airlines, a prestigious member of the aviation industry, was set up back in 1985. With its main hub at Dubai International Airport, Emirates currently operates in more than 150 destinations. To ensure the utmost comfort of its flyers, the airline proffers fantastic services.
Emirates understands the diversity in its target audience. It knows that some people like to get things done in front of their eyes. However, there are some who prefer the internet. This is why you get an Emirates check-in facility, online as well as offline. Amazing, right?
Here, we will discuss the various methods of checking into your Emirates flight. Go ahead with the one that suits you the best and collect your boarding pass because it's time to take off.
ibus leo.
Methods For Emirates Check-in
Emirates offers the following methods for Emirates check-in:
Online: From the Emirates website
From Emirates mobile application
By heading to the airport's check-in desk
Through airport kiosk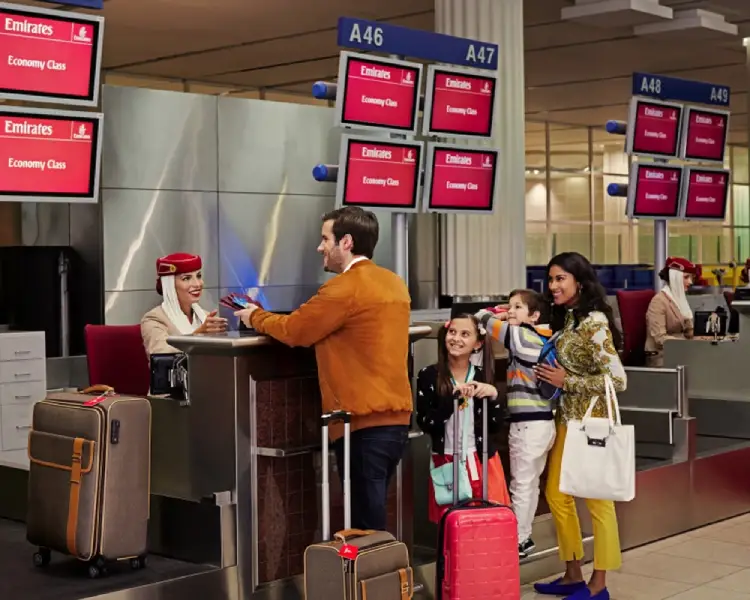 From the Emirates Website
With changing times, more people are shifting to the internet. Therefore, Emirates offers its check-in process now directly from its official site.
To initiate the process, run the Emirates website on your web browser.
Once you are on its homepage, hit the Manage Booking/Check-in option from the booking tab.
Here, the airline will offer you two options to access your booking details. The first is to log into your airline account. Otherwise, put in your Last Name and Booking Reference Number in the vacant area.
Thereafter, select the red-colored "Check-in" button.
On the following page, you will find your Emirates booking details.
Here, look for the Check-in button and click on it.
The airline further will display your boarding pass on the screen.
Remember that Emirates accepts both soft as well as hard copies of the pass.
Timings
People who want to check in online with baggage can do it between 48 hours prior to the departure to 90 minutes. Otherwise, you can do it up until the last 60 minutes of actual take-off time.
From Emirates Mobile Application
Emirates also has an application for its flyers. You can download it to your mobile phone from Apple or the Play store. This is an efficient way of operating. The process for this app is quite similar to the online procedure.
On your device, go to the App Store and search for Emirates.
When you find its official application, hit the download button and give it a few minutes.
The time it will take to finish the installation depends on your internet connectivity.
Thereafter, run the application and log into your airline account.
Next, go to the three vertical lines on the top left (Options), and click on Check-in.
Then, enter your reference code and the last name on the ticket.
On the next window, hit check-in, and the airline will generate your boarding pass.
Download the same on your mobile, and you are good to go.
Timings
Timings for mobile check-in are exactly the same as the online check-in. You can do it in between 48 hours to 90 minutes if you have to get baggage checked. Otherwise, you get 15 minutes more.
By Visiting Airport's Check-in Counter
If you are willing to head to the airport and get the boarding pass physically, then Emirate Check-In counter at each of its airports. Leave for the airport a bit early and get it done. Don't forget about the crowd at the airport, regardless of the official check-in timings.
Timings
People who need to get their baggage checked must reach the airport 90 minutes prior to the departure timings.
Anyone who is about to board the flight with carry-on bags only needs to be at the airport 60 minutes early.
In case you have not checked in online, then the airline expects Economy class flyers 3 hours before the take-off. However, first class and business class users ought to be there an hour early.
From Airport Kiosk
Another option for people flying with Emirates is checking in from the kiosk. This contactless way of getting your boarding pass is a piece of cake.
All you have to do is head to the airport with your travel documents, ID, and passport. Then go to a kiosk and check in by filling in the details asked on the screen. You will get the print of your boarding pass right after that.
Timings
The timings for kiosk check-in are similar to airport counter check-in.
Check-in with baggage: 90 minutes before departure
Without baggage: 60 minutes early
Offline check-in:

For first and business class: 1 hour before take-off
For economy class: 3 hours before departure
Culmination
Emirates Airlines is one of the UAE's flag carriers. Millions of travelers board its flights every day and fly across the world. In order to make their experience better, the airline offers Emirates check-in using various ways.
Here we have jotted down all of them and explained them in detail. In case you have further questions, you can call Tours and Travel Pro experts, and we will help you in the best possible way.