Delta Airlines Pet Policy: Delta Pet Travel Overview
Traveling with our best friend has always been our dream. When you are traveling with your favorite buddy, then only a vacation can be enjoyed. But how can you travel if your best friend is a dog? How can you leave your cat at home and vacation in London? Lucky for you, Delta Airlines Pet Policy has it all covered. We won't let you travel alone or sad because we care about your happiness and make sure we provide you with a top-notch traveling experience.
Traveling with your fur buddy is not only possible but also very easy. Obviously, like every other airline, we also have some rules and regulations regarding Delta Airlines travel pet policy. However, we'll ensure you and your buddy have a safe experience. Read below to know how Delta flying with pets works.
Delta Pet Policy International makes it easier to travel with your furry friend. It does not matter if you're flying domestically within the United States or traveling Internationally. We have solutions to all your problems so that your travel is stress-free. Make sure to read the below-given rules thoroughly so you don't face any problems while booking the tickets for you and your pet. Whether your small pet is a carry-on or your large pet is being shipped on Delta Cargo, the charges will apply according to the size of the pet.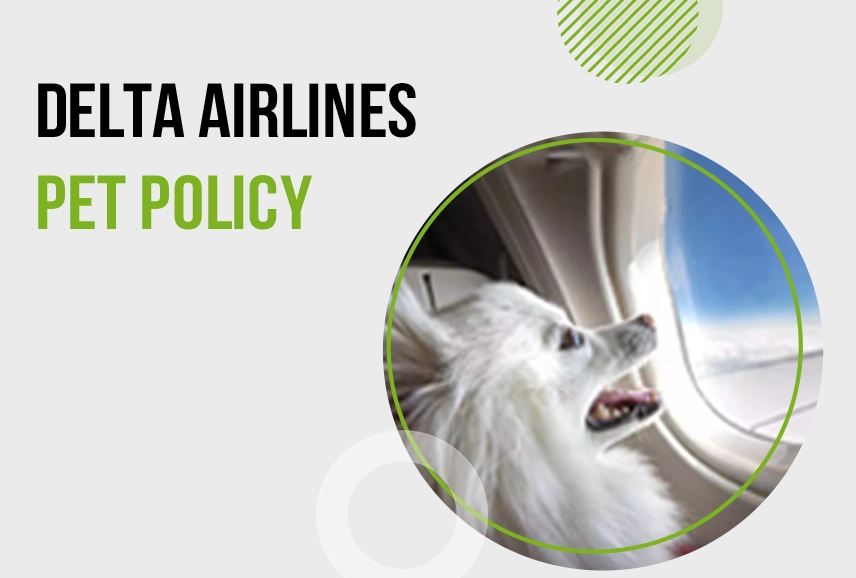 AIRLINES

No. of pets allowed in each cabin

Pets as checked baggage or Cargo

Extra large or giant kennels

No. of kennels accepted per flight

Max Kennel Weight

Compass

2

Allowed

Not Allowed

1 Extra Large/
2 Large/
4 Large

45 kgs (100lbs)

SkyWest

2

Allowed

Not Allowed

1 Large/
2 Medium/
2 Small/
1 Small & 1 Medium

45kgs (100lbs)

GoJet

2

Allowed

Not Allowed

1 Large/
2 Medium/
2 Small/
1 Medium

45kgs (100lbs)
Needless to say, some prior arrangements are necessary to be made before you decide to fly with Delta approved pet carrier. For example, if your pet needs to be transferred from a Delta Flight to a Delta Connection Flight, you must inform them at least 48 hours before the departure of the Delta Connection Flight. This is necessary for the transfer process's smooth functioning and to ensure Delta staff has enough time to carry out the process without any problems.
Delta Airlines Pet Policy: Delta Animal Policy to Hawaii
If you want to fly your pet to Hawaii, you must take some precautions, as Hawaii is strict with its Delta pet policy. Rabies vaccination and Health Certificates dated no more than ten days before the departure are required when traveling to Hawaii with pets.
Due to Hawaii's unique ecosystems, no pet is accepted to travel as a carry-on baggage on Delta Flights. 
Delta will not accept pets on non-stop flights to Hawaiian City except for Honolulu. The quarantine facilities of Hawaii are located in Honolulu only. 
Quarantine of all pets is a strict requirement in Hawaii. A quarantine period of 30 days or less is qualified if your pet has met all the pre or post-arrival requirements. If not, 120-day quarantine in Hawaii is required for all cats and dogs. Payment needs to be made by the passenger upon arrival and can be carried through various methods, including personal cheques, cash, cashier's cheque, money order, or traveler's cheque.
Making advanced arrangements and verifying cost and availability will allow Guide Dogs or what they call in the US, Seeing-eye dogs, and other service animals to travel with different provisions. To learn more about Hawaiian Travel Pet Policy, you can reach out by calling or live chat the Hawaii Department of Agriculture.
Traveling with Pet Internationally
If you're planning to travel outside of the United States with your pet, ensure you know all the rules and regulations set for international pet travel. Delta Cargo has a temporary embargo on pet shipments until further notice by the governing bodies; hence make sure you make all arrangements accordingly. The embargo includes all animals, including cats, household birds, and dogs. United States Military or United States Department Foreign Service Offices are subject to exceptions for passengers traveling with service animals.
In order to travel with a pet, the following steps must be followed:
To know the pet travel regulations, connect with the consulate of the destination or the embassy.
Paperwork necessary for your pet's travel should be obtained without any delay. These may include documents and health certificates of your pet.
To ensure your pet complies with all the foreign health regulations, connect with the vet and get proper checkups done.
To learn more about pet importation into the United States, contact the Centres for Disease Control and Prevention.
Contact Animal and Plant Health Inspection Service to learn about pet importation into the United States.
Additional charges like customs clearance fees, kennel storage fees, and terminal handling charges will have to be paid by the pet owner on arrival at the destination.
When Traveling From Egypt:
To ensure the protection of public health, a temporary ban on pets traveling from Egypt has been issued by the CDC (Centers for Disease Control and Protection). To make sure our customers and their pets are safe, Delta has placed a temporary embargo on traveling with pets to and from Egypt. Suspension will be reviewed periodically by the CDC, and updates will be provided by Delta accordingly.
Traveling to European Union with Pets:
As per the United Kingdom Pet Travel Scheme, any live animals will not be accepted by Delta as carry-on baggage. Dogs, cats, and ferrets will only be allowed through Cargo to the United Kingdom.
Passengers should inform the Department of Agriculture when traveling with a pet to the Republic of Ireland. You can inform them in advance at petmove@agriculture.gov.ie. In case of any queries, connect with the Republic of Ireland Pet Travel Portal.
All cats, ferrets, and domestic dogs must carry a Veterinary Certificate to travel to and from other countries in the European Union.
Service Dogs: London or Manchester
According to the Delta service dog policy. Proper compliance and documentation of the UK Regulations will lead to service dogs and cats getting transported to London and Manchester. If a passenger wants to transport their service dog, they must take care of the following points:
To know the requirements to enter the United Kingdom with the dog, contact the Animal Reception Center in the respective city.
Passengers should contact the Animal Reception Center after booking to make the process of the arrival of their pet smooth at the destination. All the payments and paperwork must be made in advance to complete the clearance of your service dog.
Once the appropriate documentation and necessary requirements have been completed, carry a pre-approved letter from the Animal Reception Center in the city you are traveling to.
This indicates that your service dog or cat can travel to the destination. In order to process the request to transport your service cat or dog, Delta service animal policy will require the pre-approved letter as well.
If you fail to present the letter, Delta will deny your request to transport the service dog or cat until the letter is provided.
The United Kingdom has its own charges and payment methods when it comes to the acceptance of service cats or dogs. The updated list of the charges shall be provided by the Animal Reception Center.
Delta Fly with Dog to Hong Kong
Flying to Hong Kong with pets is not permitted in the accompanied or excess baggage, cabin, or to/from Hong Kong. Import permits/Special Permits are mandatory for all birds and animals, including cats and dogs. This should be done before Hong Kong arrives and shipped by Cargo along with a covered air bill.
Traveling with Pets to South Africa
South Africa prohibits pets as checked baggage due to animal safety and custom regulations.  However, this is not the case for service animals. South Africa recognizes and accepts service animals and has removed this restriction.
Traveling with Pets to Australia & New Zealand
Australian Law does not allow pets to travel as checked baggage or carry-on. However, an exception for Service Animals exists with the necessary documentation. All pets need to be transported through Cargo only.
The New Zealand law states the same. Pets cannot be considered as checked baggage or carry-on. However, service animals hold an exception if the required documents are presented. The entry and departure must be done via Cargo.
Frequently Asked Questions
A. Yes. You may transport your dog to the UK, London. However, the dog cannot be considered checked baggage or carry-on.
A. The terms and conditions are subjective to the city's laws where you're planning to take your pet. However, some basic requirements may include updated health checkups of the pet, pre-approved letters by the governing authority, and payments.
A. Two pets are allowed in each cabin of SkyWest Airlines Endeavor Air.
A. No, Compass Airlines does not accept Extra Large or Giant Kennels.
A. Quarantine facilities are only available in Honolulu.