Fly with Your Furry Friend with Spirit Airlines Pet Policy
Everyone deserves a vacation, be it a human or a pet. Pets have always been there for us through every obstacle, so why not treat them with something more than food? Spirit Airlines pet policy allows you to travel with your furry friend to your dream destination without hassles. Spirit Airlines Pet Travel Policy allows small domesticated pets like dogs, cats, and certain birds to travel domestically, including St. Thomas, Puerto Rico, and U.S.V.I. in the guest cabin.
As per the Department of Transportation requirements, E.S.A.N. emotional support animals from 11th January, 2021 can travel as pets.. However, your pets must meet some requirements if you want to take them somewhere. Spirit animal policy will only allow the following pets to travel on the aircraft:
Domestic Cats
Domestic Dogs
Household birds (Except to and fro Puerto Rico & U.S.V.I.)
Household rabbits (Except to and fro Puerto Rico & U.S.V.I.)
NOTE: Farm poultry, waterfowl, birds of prey, game bird, and flightless birds do not come under household birds, hence won't be allowed to travel on the aircraft.
If you want to make a reservation for your pet, contact us on our Live Chat window, and we'll assist you with how you can do it. It's better to make these arrangements beforehand than at the last moment, as people traveling with pets also need more time to complete the documentation and process. Holding a reservation early for your pet will also be better, as a Spirit-approved pet carrier has a permit for a maximum of six pet containers on one aircraft.
Passengers travelling with a pet cannot do self check-in, so they must check in at the ticket counter. Make sure you come early for enough time to complete the documentation and transfer process.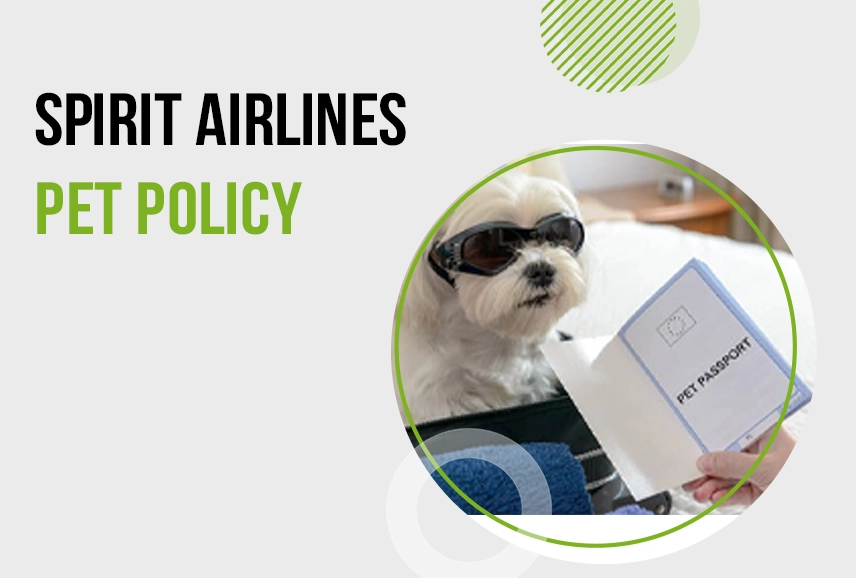 Spirit Fly with Dog and Other Pets Policy Guidelines:
Guests traveling to U.S.V.I. need to carry health certificates of their pets. Other passengers with pets do not require health certificates.
Passengers traveling to Puerto Rico with pets need to provide a rabies vaccination to Spirit Airlines.
U.S.V.I. and Puerto Rico do not allow birds to travel to and from.
Only small household rabbits and domestic dogs. Spirit Airlines also allow small domestic birds and domestic cats.
Snakes, rodents, spiders, and other exotic animals cannot travel on the aircraft.
One guest is allowed only one container. However, two pets per container are allowed.
The animals traveling by aircraft must be able to move freely and stand upright inside the container.
For the entire flight duration, animals must stay inside the container.
The pet traveling should be at least eight weeks old and fully weaned.
Any traveling pet must comply and not be inoffensive, harmless, or odorless. They should not require special attention during the flight.
Before entering the gate, the animal would be removed if any animal is found causing chaos or offense.
Physically distressed, ill, or violent pets are not allowed on Spirit Airlines aircraft.
We suggest that passengers give prior notice if they travel with pets. However, it is not necessary.
Including the pet and the carrier, Spirit pet policy allows maximum weight of 40 pounds (18.14kg).
Checking in on Spirit Flying with Pets:
Both you and the Spirit Airlines need to follow specific pet-travel procedures. Ensure you have done your due research, filled out the required forms, and booked your tickets with your travel buddy when you arrive at the airport.
First, you must make a reservation for your pet if you plan to travel with one. You can do so by contacting us on our Live Chat.
Contact Spirit Airlines as soon as possible after booking your reservation, as limited pet carriers are allowed on Spirit Airlines. Per container, the charges are $125, which you must pay the airlines when you contact them to post your reservation.
Passengers traveling with pets will have a different check-in process than passengers traveling without pets. For instance, travelers with pets can only self-check in after the flight.
Traveling with pets requires more documentation and a little more time than usual. We recommend you reach the airport early so that there is ample time for the airport staff to check the documents, approve the request and board your companion into the aircraft safely and securely.
International Pet Travel with Spirit Airlines:
As per Spirit pet policy international, no pet is allowed to travel on the aircraft, except for service animals. Spirit service dog policy has different rules and requirements for service animals, so we recommend you contact us on our Live Chat.
For safety reasons, the pet must go through security screening as well.
Guidelines for Pet Carriers:
Inspection and approval by Spirit Airlines are necessary for the successful travel of your pet. Dimensions per container are 45.72cm x 35.56cm x 22.86cm (L x W x H). The idea behind these dimensions is that the container must be able to fit under the seat. Prohibited containers qualify as those which allow the pet's head to stay outside. Only soft containers are allowed in the cabin. For safe transportation, ensure that you're abiding by the government requirements.
Frequently Asked Questions
A. Yes. Spirit Airlines allows pets on their aircraft.
A. You can travel domestically with your pet except for Puerto Rico and U.S.V.I.
A. Per passenger, one container is allowed. A maximum of two pets can be allowed in one container.
A. No. The pet should be at least eight weeks old to fly on Spirit Airlines.
A. No. Transporting pets in Cargo is not allowed by Spirit Airlines.