Travel with your Fur-buddy with United Airlines Pet Policy
Traveling with a companion has always been the best way, but what can you do when your companion buddy is a dog or a cat? No, this does not mean that you have to travel alone now. Thankfully, United Airlines pet policy allows its passengers to travel on the aircraft with their pets and provide full safety for them. However, like every other airline, United's pet policy also has rules that need to be followed to make traveling with your furry friend possible.
Let's look at the following rules and regulations set by United Airlines Pet Travel Policy that you need to keep in mind before you bring your pet to the airport:
The pet must travel in a hard-sided or soft-sided carrier, regardless of their breed. Lucky for all pet owners, the United Animal policy does not restrict the breed of the cat or dog so that you can fly with them stress-free.
The catch is that your pet's carrier must fit under your seat, or the request to fly with your pet will be denied. This does not mean that the pet should fit perfectly, but that the pet should be able to roam in the carrier freely and stand up straight when inside. According to United service animal policy, they do not require a carrier if you have a service animal.
The dimensions for hard-sided carriers are 19cm x 44cm x 30cm (H x L x W), whereas the dimensions for soft-sided carriers are 27 cm x 45 cm x 27 cm (H x L x W).
You will be charged to carry your pet with you, and you won't be allowed to pay this fee using travel credits. A charge of $125 would have to be paid by you for one side ticket, and in case there is a flight that has a layover of more than four hours, you need to pay the fee for every layover.
What do you Need to Keep in Mind Before Flying with Pets?
You must have all the necessary paperwork to allow access to your pet on the aircraft. Most countries ask for health certificates for the pet, including rabies vaccination. However, make sure you check with the country you're traveling to since some of them strictly prohibit pets from traveling.
Booking a ticket for your pet is quite easy with United flying with pets. Just click on the Travel with Pet option when you are booking your ticket, and then fill in all the details that are asked about the pet.
Your pet's safety is your responsibility, so we recommend you carry essentials like plastic bags, treats, water bowls, a leash, and other necessities according to your pet. It would be best to have all these when you arrive at the airport.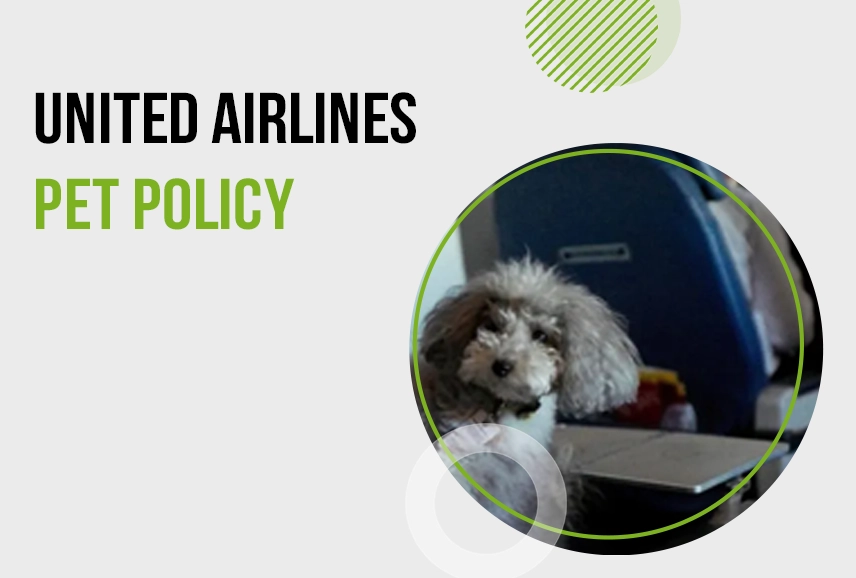 4. To maintain decorum on the flight, carrying your pet's favorite toy, blanket, or anything that gives them comfort and helps them keep calm for hours on a flight would be helpful.
5. When on the plane, your pet must always stay inside the United-approved pet carrier. The door must always be closed, and your pet should be able to move inside the carrier and stand up straight. The pet or the passengers should not face any discomfort during the flight.
Pet Exceptions for Military and State Department
United Airlines makes an exception on pet travel for the Military and State Department. Orders related to separation/retirement of PCS and reassignment orders of FSP have the exception of traveling with their pets as checked baggage between Guam and Honolulu only. The only pets that are allowed are cats and dogs under specific conditions and requirements. This offer is only valid for U.S Military personnel and their spouses.
A tag during check-in will be given to the pets that qualify for all the requirements, like weight limit as per the United Military Pet Program. To make your trip hassle-free, we permit you to check your companion at the airport counter. However, this offer does not pertain to U.S. military personnel traveling on leave or for leisure.
This pet travel policy makes an exception only for United Airlines flights and not United Express flights. United shall not permit any pet transfers between two or more airlines. If you have any queries, you can connect with us on our Live Chat or email us at info@toursntravelpro.com.
What are the Requirements for Military Pet Travel?
Following are some rules that you need to take care of before traveling with your pet:
You must book at least 5 to 10 days before the scheduled departure date.
Health certificates of your pet, including the name of the owner that must match on PCS orders and signed form with the same signature as on PCS orders, must be shown before boarding.
Flights from Guam to Honolulu only accept four pets per household.
Flights from Honolulu to Guam only accept two pets per household.
Transfer of someone else's pet is strictly prohibited. Only a one-time pet move per PCS order is allowed; multiple trips are restricted.
The total weight of the crate should not be more than 99.9 pounds.
Tracking devices or GPS are not allowed on or in the pet crate.
To know more about the restrictions on breed, acknowledgment form, crate requirements, and more, visit the following link:
https://www.united.com/ual/en/us/fly/travel/animals/exceptions.html
Frequently Asked Questions
You are free to travel anywhere with your pet as long as your travel destination allows pets in their country/city. If you are traveling a long trip and have multiple airlines booked, make sure you check all the pet policies of all airlines.
United pet policy in cabin restricts pets from flying through, to, or from the following list of states and countries:
Barbados
Guam
Hawaii
Iceland
Jamaica
Micronesia
Northern Mariana
Islands
Palau
Philippines
South Africa
Tahiti
United Arab
Emirates (Dubai)
Australia
Cuba
French Polynesia
Hong Kong
Ireland
Marshall Islands
New Zealand
Norway
Panama
Saint Kitts and Nevis
Sweden
Trinidad and Tobago
United Kingdom
The rules and requirements are subject to the destination that you are traveling to. However, if you are planning to travel within the United States, the following information on your pet's certificate would be required for the smooth functioning of the process:
Name, phone number, and address of the pet owner.
Information about your pet, including their breed, age, color, markings, and sex.
Date of vaccination, expiration, and names of the vaccinations.
According to the United pet policy international, your pet must be at least four months old to travel internationally. On the other hand, a pet needs to be at least two months old to travel domestically.
In case of retirement/separation, U.S Military personnel can travel with their pets. However, traveling for leisure or leave is not allowed.
According to the United service dog policy, four months or older dogs trained to help people with disability are allowed to travel on United Express and United flights.