Travel with Pets with JetBlue Airlines Pet Policy
Whether it's relocating to a new city or traveling for business, both of these tasks get slightly more difficult when you have four-pawed friends waiting for you at home. Leaving them alone and going off to work is obviously not an option, so what will you do?  
The most effortless way to travel with your pet can be done by flying with your dog on JetBlue Airlines. That's right! JetBlue Pet Policy lets you travel with your furry buddy without any hassle. However, like all other airlines, JetBlue also has some terms and conditions  and pet policy you must follow if you want to travel abroad or domestically with your pet.
What All Animals are Welcome Aboard?
Unlike other airlines, JetBlue has strict regulations permitting only cats and dogs under the JetBlue Airlines Pet Policy. No other animal is allowed to travel domestically or overseas.  Along with this, JetBlue also only allows one pet per passenger, so if you're someone who has more than one pet, you may feel stuck here. One solution to such problems is for someone else to fly with your pet. 
Please note that JetBlue only allows six animals on their aircraft, so reserve your pet's booking as soon as possible. To book your pet's flight, contact JetBlue by clicking on 'Send Message' on the bottom right corner of your screen.
The reservation of your pet can be done in few simple steps, so don't worry about the process. You are just one step away from having your dream trip, with your best buddy, full or treats and beautiful views.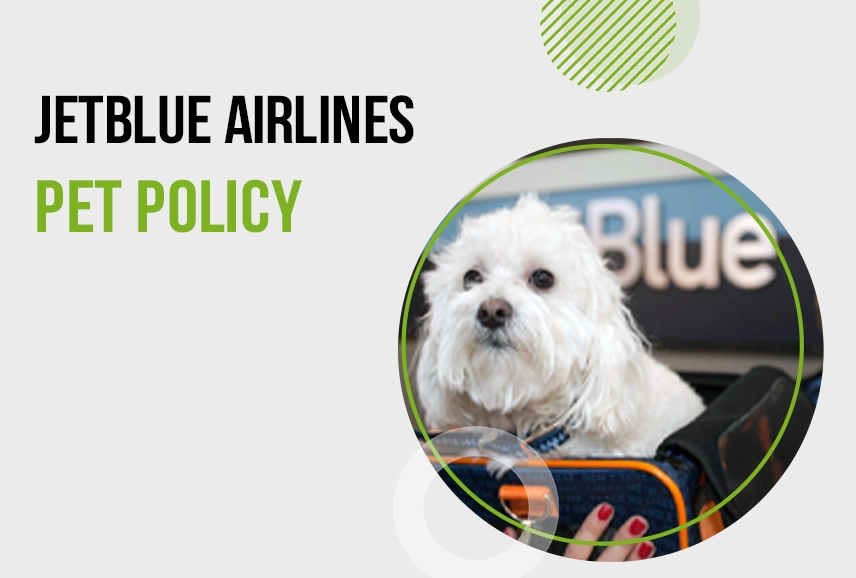 Pet Weight Limits in JetBlue Airlines Policy
The JetBlue Pet Travel Policy allows all cats and dogs to travel in a cabin, but there's always a catch. JetBlue Airlines has a set weight limit on the pet you plan to travel with. The carrier in which your pet will be placed and your pet combined should not exceed 20 lbs. This restriction is laid down so your pet can abide by the rules of cabin travel. Your pet must stay inside the carrier at all times, that includes the entire duration of the flight. They must sit under the seat in front of you, and the carrier must be big enough for your pet to stand or move freely inside.
To know more about pet weight limit read the following link: https://www.jetblue.com/traveling-together/traveling-with-pets
Travel Checklist for your Furry Friend
To avoid last-minute stress and running here and there, JetBlue Pet Travel Policy has provided a checklist for you to take care of before you travel with your pet. Read the below-mentioned checklist and start your travel planning at the earliest:
Carry your pet's vaccination records, including the vaccinations' name and the application date.
Bring your pet's ID Tags.
Their Pet License.
 An FAA-approved pet carrier. (Must meet requirements set by FAA)
Your pet's favorite toy to keep them entertained.
Food or treats for your pet.
Pre-flight workout for your pet so that they travel peacefully on the flight.
Travel with a Pet in Cabin
In order to fly your dog or cat in a cabin with JetBlue Airlines, you must know the following things:
Cabin travel is only allowed for cats and dogs. No other animals, including ferrets, household birds, rabbits, etc, are allowed.
Your furry buddy must be at least eight weeks old, or they won't be allowed to travel with JetBlue Airlines. Your pet must also meet the age requirement of the destination that you are heading to.
Except for the Virgin Islands and Puerto Rico, no forms or documents are required when traveling with your pet domestically within the United States. However, vaccinations and health certificates are required for international flights, including pet licenses and ID tags.
Online or Offline pet reservations are available.
The pet travel fee is $125 one-way.
JetBlue Airlines Pet Carrier Requirements
Read the following points to understand what carriers are allowed in JetBlue Airways Pet Policy.
Soft-sided and hard-sided carriers are allowed in the Cabin.
9kg is the total weight allowed, including the pet and the carrier.
Hard-sided carrier maximum dimensions are- 43cm x 31cm x 21cm, that is L x W x H.
The carrier must be comfortable enough for your pet to stand up, move and turn around inside.
Adequate air ventilation and leak-proof carriers are mandatory.
Your pet carrier will be counted as carry-on baggage, so make sure you check the weight before you start packing.
The carrier must be escape-proof, and no body part, including the tail and head of the pet, should come out of the carrier.
If you cannot find the right carrier, you can buy one from JetBlue Airlines.
JetBlue Airlines Restrictions on pet Travel
Pets on flights flying to Jamaica, Trinidad and Tobago, Barbados, and St. Lucia are prohibited.
Pets will not be permitted on flights to or from London.
One passenger is allowed only one pet carrier.
JetBlue will only accept up to six pets on the flight.
Interline bookings do not allow pets to travel.
Guests traveling with pets can only occupy Bulkhead seats, Seats with enough space below them, Emergency exit rows seats, and Mint seats.
JetBlue Airlines Guidelines for Traveling with Pets
A) When at Airport
You must check in with your companion at the Full Service Counter when you reach the airport.
Reach the airport early to complete the check-in and documentation of your pet.
The pet must relieve itself only at the allowed areas of the domestic airports.
JetBlue offers bag dispensers that can be purchased.
Your pet must stay inside the carrier even when at the airport.
B) Pet Screening
Take your pet to the security checkpoint when you reach the airport.
The pet carrier must pass through an X-ray machine without your pet.
A visual or physical inspection of your pet is required. You can also hold your pet in your arms and go through metal detection for security reasons.
C) In Flight
Your pet must stay inside the carrier at all times.
The carrier needs to be placed under the seat in front of you.
You may purchase a separate seat for your pet and keep the carrier on the seat.
you can hold the carrier in your lap during the flight.
At the time of take-off, taxi, and landing, the pet must stay inside the carrier below the seat in front of you.
JetBlue Airlines Pet Fee and Cancellation
The one-side fee for JetBlue Airways flying with pets is One Hundred Twenty-Five Dollars ($125). You must make the payment when you make your pet reservation. Please note that the pet fee is non-refundable once you have paid. Thanks to JetBlue, the pet reservation can be canceled and utilized later.
Contact us on our Live Chat if you want to cancel your pet's reservation. Ensure you cancel your pet's reservation before the scheduled departure time, or the pet fee will be forfeited. After cancellation, the pet would be converted to travel credit that you can use in future travel, provided that's within one year of the issuance date.
JetBlue Airlines Service Animal Policy
An animal that is trained to help people with physical/intellectual/mental/sensory, or psychiatric disability can be described as a Service Animal. They help the individual with various chores and help them attain greater independence. Service dogs are allowed to travel free of cost with their owner under a few conditions, as per the JetBlue Dog Policy:
Dogs that are still undergoing training will not be allowed.
Service dogs can travel in the Cabin, including Mint, free of cost.
A guest can travel with a maximum of two service dogs.
As required for service dogs, documentation must be submitted at least 48 hours before the scheduled departure.
Documentation required includes U.S DOT Service Animal Air Transportation Form that you must download, fill and submit.
Make sure you carry the original documents, as you will be required to show them at the airport during check-in as well as at the destination.
Note: Service Animal Conditions
U.S Virgin Islands and Puerto Rico require vaccination documents.
The owner must handle the pet at all times.
When assessed at the airport, the pet should be declared well-behaved.
If you are traveling with more than one service dog, you may purchase a separate seat for your dog or wait for a flight with enough vacant seats to accommodate your pet.
The service dog must fit within the designated seat area.
No service dog should be touching any other passenger on the flight, the tray, or any part of the seat.
Your service dog should not obstruct the aisle area.
If your dog needs to relieve itself, you must take care of the hygiene and health requirements of JetBlue Airlines.
If required, You may ask for assistance from a JetBlue crew member.
If traveling internationally with a service dog, read the USDA-APHIS Pet Travel requirements.
Emotional Support Animals on JetBlue Airlines
JetBlue Airlines does not consider emotional support animals as service animals. Free travel is not applicable for them. Although, they may travel with JetBlue if they meet the requirements and pay the pet travel fee.
Frequently Asked Questions
JetBlue Airlines charges a fee of $125 for traveling with a pet on one side. Please note that this fee is non-refundable once paid. However, you may cancel the reservation and receive a travel credit for future travel (within one year).
Traveling with pet fees is mandatory for all passengers, irrespective of what kind of ticket you have purchased. JetBlue Airlines allows only service animals to travel free of cost.
No. JetBlue does not provide checked baggage or air cargo service for live pets. You can travel with your pet only in the Cabin after fulfilling the requirements.
JetBlue Airlines permits a maximum of 20 lbs/9 kg of weight for your pet and their carrier combined. Your check-in weight includes the pet and carrier's weight, therefore make sure you abide by the rules and pack accordingly.
JetBlue Airlines allow a maximum of six animals on the plane, and one passenger can bring only one pet. The pet must stay inside the carrier from the start to the end and should be comfortable inside the carrier.