Lufthansa Airlines Baggage Policy & Allowance With Rules
Are you looking forward to traveling with Lufthansa Airlines for your next vacation? Then, knowing every detail about the Lufthansa Baggage Policy is important. The Baggage fee of Lufthansa Airlines is standard and depends on your flight class, route, and fare. However, the fee may add up if you need help to understand what you expect from them. This blog will help you know all the details about the Lufthansa Baggage Policies, fees, and some hacks that will minimize your add-on expenses. 
Lufthansa Airlines Baggage Policy For Carry-on Baggage
The Lufthansa carry-on baggage policy states that passengers can carry personal and one personal bag. Regarding some modifications in the law during the Corona-Outbreak, you can only bring a single carry-on bag until further notice.
Free Carry-on Allowance
According to the Lufthansa Baggage Policy, Passengers can bring;-
Carry-on sized baggage
A Small BackPack or duffel bag
Briefcase and laptop bag
Compact, Foldable Baby Stroller
Foldable garment bag
Until the covid-restrictions are lifted, the handbags and shopping bags count towards your one carry-on bag.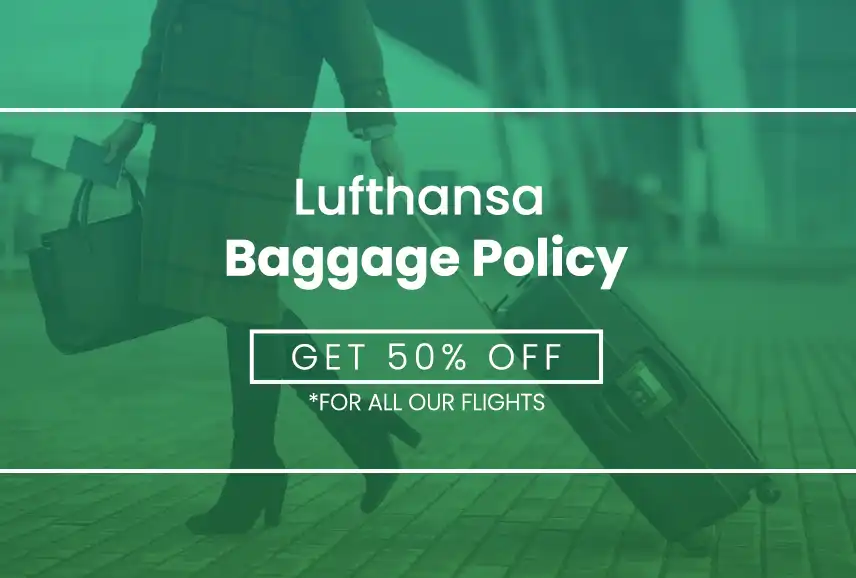 Carry-on Size & Weight Restrictions:
The dimensions for carry-on luggage should be around 22x16x9 inches
However, the foldable garment should be at most 22x21x6 inches.
The weight of your carry-on baggage should be at least 17 lbs. The economy is classic; premium ticket holders can carry one additional piece of baggage up to 8 KG. Business class and first class passengers can bring two carry-on items. The light economy fare travelers' carry-on rules will remain the same.
The travelers will also be permitted to bring out a small personal item such as a handbag or laptop bag and;-
Child Seat & Folding Stroller
Mobility aids such as wheelchairs as orthopedic equipment.
Here's How You can Carry Your Items on Board:-
As for the larger hand luggage, such as the small wheeled suitcase or backpacks, you can utilize the overhead locker above your seat.
Other than that, the smaller items include purses, laptop bags, and shopping bags, which can be put under the seat in front of you.
There will be a hook for jackets and coats on the seat in front of you.
The overhead lockers will be located right above the emergency exit rows, reserved for the passengers sittings in the rows.
Lufthansa Checked Baggage Allowance: However, the permitted checked luggage's number and size depend on the fare class and destination. But here are some guidelines that you should remember:-
| | | |
| --- | --- | --- |
| Fare Class | # Checked Bags | Maximum Weight |
| Economy Light | 0 | N/A |
| Economy | 1 | 50 lbs (23 kg) |
| Premium Economy | 1 | 50 lbs (23 kg) |
| Business Class | 2 | 70 lbs (32 kg) |
| First Class | 3 | 70 lbs (32 kg) |
In short, the approximate dimensions for any of the pieces of baggage should be around 62 inches in height, width, and depth.
Free Baggage Allowance For Status Customers on the Intercontinental Flights
| | | | |
| --- | --- | --- | --- |
| Travel class | Frequent Travellers | Senators/HON Circle Members/Star Alliance Gold members | SWISS Golf Traveller members |
| Economy Light | Carry-on baggage only, up to 17 lbs | Carry-on baggage only, up to 17 lbs | Carry-on baggage only, up to 17 lbs |
| Economy Class | Two bags, up to 50 lbs each | Two bags, up to 50 lbs each | 1 bag up to 50 lbs |
| Premium Economy Class | Two bags, up to 50 lbs each | Three bags, up to 50 lbs each | Two bags, up to 50 lbs each |
| Business Class | Two bags, up to 70 lbs each | Three bags,  up to 70 lbs each | Two bags,  up to 70 lbs each |
| First Class | Three bags, up to 70 lbs each | Four bags,  up to 70 lbs each | Three bags,  up to 70 lbs each |
The status members of any fare class are also allowed a free golf bag and their baggage allowance, except for passengers flying from the United States or Canada.
Lufthansa Overweight & Oversized Baggage Allowance
In any class, the additional free checked bags can include the following:-
Disabled passengers can carry two wheelchairs and other mobility aids for free.
Passengers with small children can carry a carrier, child seat, and a pushchair or folding stroller.
One piece of sports equipment, such as the SKI or Snowboarding equipment and golf bag, should be at most the maximum weight limits of your fare class. According to the Lufthansa Baggage Policy, the sports baggage and types of equipment must be registered via the reservation line 24 hours before your scheduled departure. Due to the limited storage volume and other rules, including the significant other airlines, Lufthansa airline can not guarantee that your substantial equipment baggage will be accepted.
In addition, the free luggage allowance rules only impose on flights operated by Lufthansa. However, if you have a connecting flight on a carrier airline, then you will need to check their policy and follow their rules & regulations:-
Lufthansa Baggage Fee For Overweight Luggage
Per the Lufthansa Baggage Policy, passengers must pay for overweight & oversized luggage. Any bag which surpasses the allowed weight limit may not be permitted. However, bringing oversized and even overweight items requires passengers to pay the basic baggage fees as mentioned down below:-
| | | |
| --- | --- | --- |
| Destination Routes | Economy and Premium Economy Fares | Business and First-Class Fares |
| Germany | $92 | $80 |
| Europe | $114 | $92 |
| North Africa, Central Asia, and Eastern Mediterranean Coast | $173 | $115 |
| Short Intercontinental Destinations | $230 | $173 |
| Medium Intercontinental Destinations | $276 | $230 |
| Long Intercontinental Destinations | $345 | $287 |
| Routes to/from Japan | $400 | $200 |
Lufthansa Baggage Policy For Pets
According to the Lufthansa Baggage Policy for international flights, passengers need to follow these rules if they are traveling with pets:-
The passengers can only bring tiny dogs & cats in their compartment.
However, the pet and carrier should be at most 17.6 lbs or 8 kg.
Also, the aircraft and available capacity will determine the maximum number of pets allowed.
Each passenger is only allowed to carry one pet carrier.
Besides that, each traveler can only bring approximately two dogs. If they fail to comply with the rule, they must pay extra fees per the Lufthansa Baggage Policy. 
However, the Lufthansa pet carrier should be able to prevent escape, injuries, and bites. 
Restricted Items That You Can't Bring on Lufthansa Airlines
According to the Lufthansa Baggage Policy, there are a few items that passengers are prohibited from bringing on board with them, such as;-
Acid & Alkalis
Gas Containers
Wet Cell Batteries
Self-defense sprays
Also, the flammable liquids
Camping Stoves
Filled Scuba Tanks
Electroshock weaponry
Explosives & Fireworks
Oxygen Generators
Heat-Generating objects
Peroxides
Liquid Oxygen
Lithium batteries
Radioactive materials
Strongly Magnetic materials
Sports & Musical Instruments Approved by Lufthansa Airlines
Here are some of the mentioned sports and music instruments approved by Lufthansa Airlines:-
Fishing Items
Shortboards
Bicycles
Golfing Equipment
Hockey Equipment
Winter Sports Equipment
Diving types of equipment
Hang-gliders
Longboards
Tandem
Guitar
Tabla
Drums
Piano
Violin
Lufthansa Baggage Policy For Pets
As per the Lufthansa Baggage Policy, Lufthansa Airlines permits passengers to carry their babies inside their flight by following these rules:-
Infants can easily sit in the lap of an adult.
However, the passenger can also travel using an infant seat.
Infants above the age of two can sit in their seats.
But, one person can only fly with one lap infant at a time.
If you are traveling with two infants, then the second infant has to be seated in a separate seat.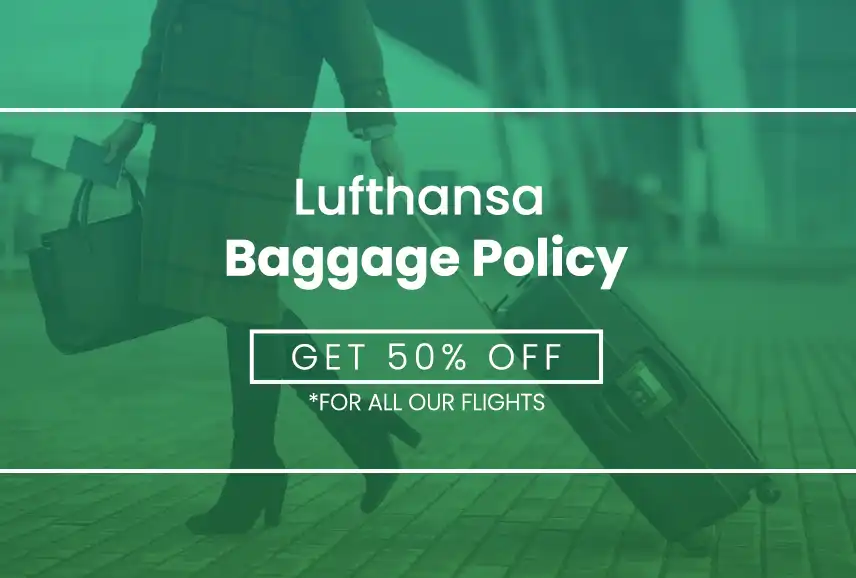 Security Rules For Lufthansa Carry-on Baggage Policy
The Lufthansa Baggage Policy's security states what items passengers can carry. It should be safe for both the owner and all the passengers on board; the approval has provided these items. 
Alcoholic Beverages
Makeup items
Baby Food
Baby Items such as cereals, strollers, and car seats 
The Lufthansa Airlines carry-on baggage policy for liquids states:-
Liquids, lotions, and sprays should be stored in quart-sized plastic bags.
Each item should weigh at most 3.4 oz.
As for the larger containers, they should be carried in the checked baggage.
Besides, coffee, milk powder, spices, and other powered items should be 12 ounces in your carry-on baggage. 
Belts
Blankets
Clothes
Shoes
Here is the list of liquids and powders that passengers can bring with them on board:-
Medicines For the babies
Dietary supplementary
Ashes of a deceased individual 
Items exempted from taxes
Passengers can book flights online with Lufthansa Airlines and pay for their baggage in advance. But, for this, you have first to contact their call center. In addition, you can simply visit the official website of this airline, and as soon as you are done with that, you can log into your booking. You must navigate to the "My Booking" tab for this. 
This blog has come to an end. This blog has mentioned everything a passenger has to know about Lufthansa Baggage Policy. It is important to know about certain things before making a reservation with an airline, such as baggage policy, cancellation policy, and Lufthansa name change Policy. However, if you have any further queries, you can contact us via our official website or directly live chat.