Learn About Southwest Airlines Baggage Policy
You must live under a rock if you have yet to hear about Southwest Airlines Baggage Policy. It is one of the best airlines in the market, and it has flexible policies as well. Now, it all comes down to one more thing: the luggage. The overweight Baggage Issue is a real issue, sometimes resulting in an additional charge. You must know about the Southwest Airlines' Baggage Policy to avoid this situation. What Makes the Southwest Airlines Baggage Policies any different than the rest? 
To break it down, Southwest Airlines permits its passengers to check in two bags on a domestic flight. And, that's not it, you do not have to pay any fees for that.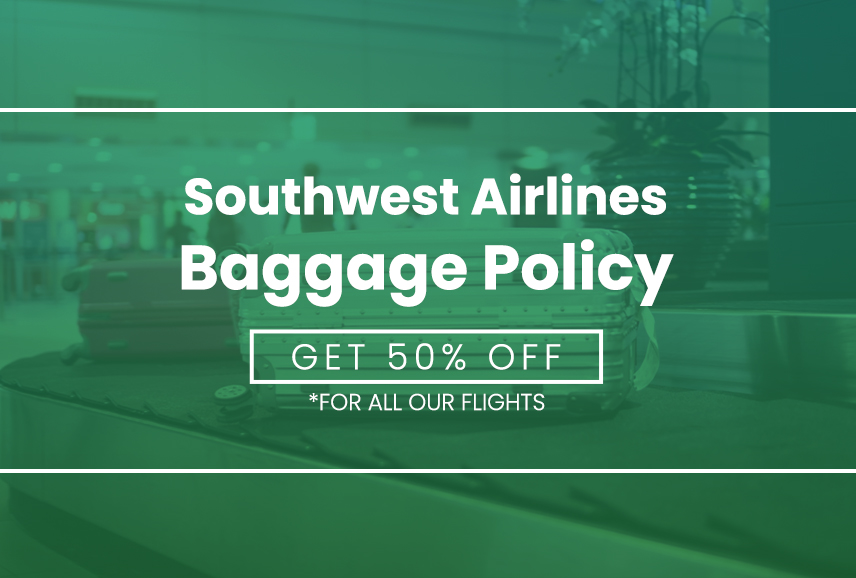 Basic Terms of Southwest Airlines Baggage Policy
As we have said earlier, Southwest Airlines allow its passengers to carry the first two bags for free. But here comes the twist. You would have to pay a certain fee for that. 
According to the Southwest Airlines Baggage allowance, the weight and size of the baggage must not exceed 50 lbs & 62 linear inches.
However, active-duty military passengers can bring as many bags as they want, but the size and dimensions must not exceed 100 pounds & 80 inches of size.
A Real Breakdown On Southwest Carry-On Baggage Allowance
Per the Southwest Airlines Baggage Policy, passengers can bring one carry-on bag and one small personal item without paying additional fees. And, if you plan to bring your pets, their carriers will be counted as personal items or carry-on items.
Your item may include Purse, briefcases, camera, or laptop bag. As per the baggage policy, these items must fit properly in the overhead compartment or on the seat in front of you. However, it must be at most 16 x 13 x 8 inches.
Things You Must Know About Carry-On Luggage
Many items are not considered carry-on baggage. However, the passengers can bring these items on board without having to pay any additional fees;-
Child Seat
Any Assistive & Mobility Device
Outer clothing items
Disposable
Umbrella
A walking cane
Southwest Airlines Checked Baggage Allowance: Specifications
Passengers can travel with at least two checked bags which must be at most 50 lbs & 62 linear inches.
If your baggage exceeds the given limit, then you will be required to pay an additional fee. However, if your bag weighs around 100 pounds, you can transport it via the cargo section. 
Any sporting equipment will be counted as free checked baggage but must be within the given weight limit. 
Military Baggage Allowance
The active-duty military passengers have many more advantages than the rest of us. Their baggage allowance is different than the rest of the passengers, such as;- 
Military passengers can bring at least two pieces of checked baggage 
Additional fee for overweight, oversize baggage
They can only bring baggage weighing around 45 kg, and its size dimension must not exceed 203.2 CM. 
Want to Bring Sports Items? Have a Look at the Sports Baggage Policy 
Per the Southwest Airlines Baggage Policy, passengers can bring sports equipment as their checked baggage. However, additional charges will be added if your baggage exceeds 23 kg. Have a precise look at the sports items;-
Bicycles
Golf
Baseball
Softball items
Boogie
Knee Boards, pieces of equipment
Archery items
Bowling
Fishing items
Hockey sticks
Lacrosse items
Knives
Scuba items
Tennis
Skateboard
Ski items
Surfboard pieces of
equipment
Bring Your Musical Item On Board; Baggage Conditions For Musical Items
The Passengers can take their musical items on board as carry-on items. However, if your musical item exceeds the given limit, you can still bring it. However, your musical item must fit in the overhead bin or under your seat. If it doesn't, you will have to buy a seat.
Per the checked baggage policy, the airline allows passengers to check in one musical item. But wait, there are many instances where you cannot check your musical equipment, especially when it exceeds the given limit.
Items like Double bass and cello will be subjected to overweight & oversized baggage charges.
Southwest Airlines Baggage Fees & Policy
| Baggage category | Fee | Max Weight | Max Size (L+W+H) |
| --- | --- | --- | --- |
| LugLess carry-on | $14-$39 | 25lbs | Calculate |
| First checked bag | $0 | 50lbs | 62″ |
| Second checked bag | $0 | – | – |
| Third(+) checked bag | $75 | Same as above | – |
| LugLess checked bag | $20-$45 | – | You can calculate via baggage calculator |
| Overweight surcharge | +$75 | Between 51-99lb | 62″ |
| Oversized surcharge | +$75 | 50lbs | 63″-80″ |
| LugLess oversized bag | $28-$55 | 75lbs | Calculate via baggage calculator |
List of Disapproved Items By the Southwest Airlines
Antlers 
Camping stoves 
Chainsaws
Compressed gas cartridges
Electric unicycles
Engine or car parts deemed flammable
Fermented fish sauce 
Ferrets
Fire dance apparatus 
Fireworks 
Fuel 
Fuel canisters 
Hand warmers 
Hoverboards  
Internal combustion devices
Live fish
Live lobster
Mace 
Mercury 
Mosquitoes 
MRS
Nail polish remover (except in small quantities) 
Paint (except small tubes) 
Peacocks
Pepper spray
Reptiles
Rodents (i.e., Guinea pigs, mice, rats, etc.) 
Saltwater 
Samsung Galaxy Note 7 
Segways
Self-heating pads 
Shocking devices
Spiders 
Stun guns 
Swingless golf clubs
Tasers 
Tires (except for bicycles)
Alarm briefcases and
attachés 
What If My Bag Gets Damaged? What Can I Do in That Situation?
There are several instances where your baggage can get damaged, and there are several things that you can do;-
The very first step would be to file a report immediately. But you would have to do it within four hours after your arrival.
A life-saving hack is that you must click a picture of your luggage before your trip for evidence purposes. This way, they can easily see the damage done to your baggage, and you can get compensated as well. 
However, remember this thing; the airline will not pay attention to any minor defects, including dirt, cuts, dents, and scratches. 
Things to Know If Your Baggage Has Been Lost
If your baggage has been lost, damaged, or delayed, you can get at least $3500 as compensation. However, to claim your compensation money, you must file for it. The airline will try to find your bag, and it can take weeks, and after 21 days of searching, you can ask for compensation.
Excess & Overweight Baggage Fee
As per Southwest Airlines Baggage Policy, the airline will charge you a certain fee for surpassing the given baggage limit. The passengers must pay at least 75 dollars for their third and another bag if they bring any additional bags. But, if you are departing from Mexico, San Jose, and Costa Rica, you can only bring two checked bags in a limited time. 
However, if your bag exceeds 24 to 46 kg, you would have to pay at least $75. And for those whose bags are exceeding from 100 pounds, then it will not be accepted as checked baggage. 
Till Next Time:
It is every passenger's nightmare if their baggage exceeds the given limit. Sometimes, they are not even allowed to bring certain bags cause it too overweight to even be on board. To avoid these mishaps, it is important to consider Southwest Airlines Baggage Policy before packing your luggage. Read the fine print and know how much penalty you would pay if you break any rules. Hence, for more information on ticket booking, flights, and policies, visit our official website or contact us via live chat. 
Frequently Asked Questions
Ans. As per Southwest Airlines baggage allowance, the passengers can bring one carry-on item and one personal item. However, the item must be within the given limit of 16x13x8. There are a few rules against carry-on items; you should be able to fit them in the overhead bin or under your seat. 
Ans. Yes, you can. The backpack will be considered your item. According to the Southwest Airlines Baggage policy, the size must be at most 16.25x13.5x8.5 inches. 
Ans. You can bring food items on board as per the Southwest Airlines baggage policy. Not only can you bring your food, but you can also carry the food that you have purchased from the airport. However, you can only take alcohol on board if it is served on the plane. 
Ans. No. Unfortunately, Southwest Airlines does not allow passengers to pre-pay for their baggage in Advance. 
Ans. The economy fares are not different from the rest of the fares. Both Anytime and Business select classes have the same fares.