Yas Island is the top holiday destination that is among the list of every traveler visiting Abu Dhabi. The island is home to some of the top visiting spots like Yas Marina Circuit, Ferrari World Park, Warner Bros. Abu Dhabi, Yas Waterworld, and many others. While visiting this holiday destination, visitors also look out for the perfect accommodation that can make their holiday a memory of a lifetime. However, many visitors get confused about where to visit, and with so many scams going online, the visitor does not get the desired accommodation for which they have paid. Thus here we are going to list some of the best hotels in Yas Islands which you can visit in Abu Dhabi, along with other general information regarding them which you need to know while booking your reservation.
Best Hotels in Abu Dhabi
Some of the best Hotels in Yas Island where you can find the perfect accommodation are listed below. Along with their name, we have listed some mandatory details like facilities provided, number of rooms, charges and other related information. So. check out this list of best hotels in Yas Islands before planning your trip to Abu Dhabi: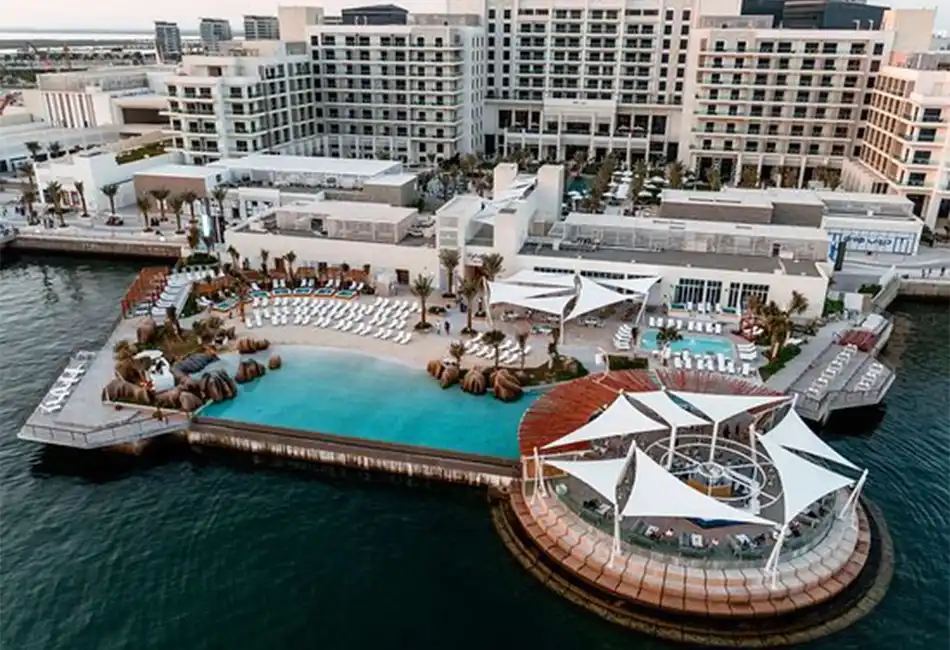 Providing a contemporary waterfront stay, the Hilton Abu Dhabi is a perfect place to make your visit a memorable experience on one of the world's most exciting travel destinations. The Hilton Abu Dhabi has all the mandatory facilities to which can make your stay more comfortable, like Spa, Gym, restaurant, bar, and lounges. Considering the location of this hotel, it is at a minimum distance to various tourist attractions like Abu Dhabi Waterworld and many others. Restaurants, Bars, and Cafes are located in this hotel, and the world is recognized that every tourist craves to take a visit. Below, are some of the famous restaurants located in the Hilton Abu Dhabi:
Capila Pool Bar and Grill: This laid-back pool is an excellent place where you can enjoy icy drinks and Peruvian Meat Skewers, which you can enjoy along with your lunch under the Palm trees.
Graphos Social Kitchen: The Kitchen offers each and every famous meal which the visitor can enjoy, along with a contemporary twist made by world-renowned chefs.
Other General Details regarding Hilton Abu Dhabi like accommodations are in the table below:
| | |
| --- | --- |
| Number of Rooms | 545 (distributed among 10 floors) |
| Price Range | USD 348-USD 1280 |
| Number of Meeting Rooms | 20 |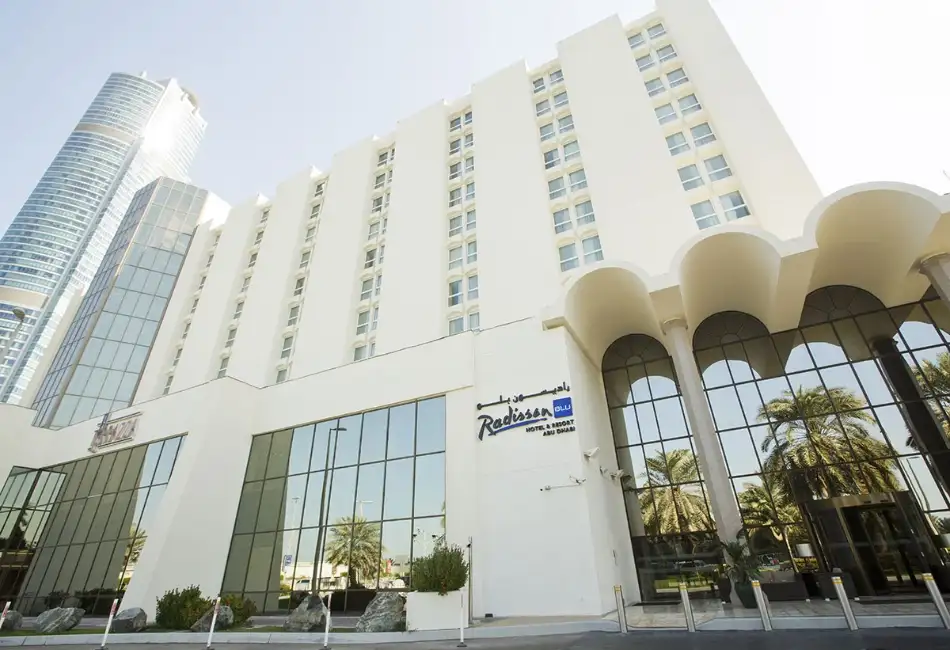 Another top spot holder in the list of the Best hotel in AbiDhabi is the Raddison. Situated within walking distance of the beach filled with sand, this is one of the best hotels in Yas Beach that provides an awesome view of the metropolitan and the Arabian Gulf. This 5-star is equipped with all the facilities like Gym, Spa, Salon, Pool Bar, and Beach Bar. Apart from that, any visitor, even with a most basic suite, will be availed of various amenities like Free Wi-Fi, In-room coffee and tea facilities and satellite TV, and many others. Accommodation details for this hotel, along with Last Minutes Hotel deals Yas Island are listed below:
| | |
| --- | --- |
| The total number of rooms available for reservation | 397. |
| Various types of rooms along with their price range | Superior Room (USD 116) Premium Room-Sea View ( USD 135) Premium Room-City View (USD 152) Room (Executive)-Lounge Access (USD 141) Executive Room with Lounge Access- Sea View( USD 165) Suite (Executive)  with Lounge Access-Sea View (USD 178) Suite with Lounge Access-City View (USD 190) Premium Suite with Lounge Access-Sea View (USD 202) |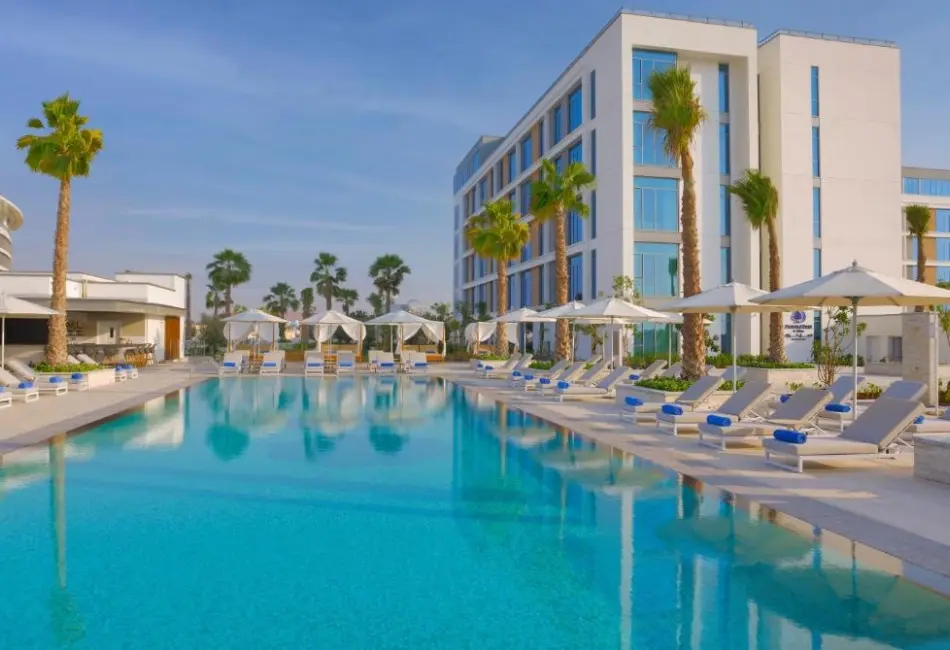 Another Extension of Hilton, the Double Tree, is located at the most favourable places, with Warner Bros right next to it and a walking distance to Yas Waterworld and Ferrari World Abu Dhabi. This place is integrated with all the amenities like Gym, Spa, Kid's Club, pool, and many others, which makes it a perfect destination for family holidays. Various amenities available at Double Tree Abu Dhabi are given below:
Outdoor Pool
Fitness Centre/GymPoolside Bar
Meeting Rooms
Conference Facilities
Sun Loungers
Umbrella
Reservation at this place is available in the form of 3 Packages which are listed below:
1 Night (1 Hotel Night+1 Theme Park)
2 Nights (2 Hotel Nights + 2 Theme Park)
3 Nights (3 Hotel Nights + 3 Theme Park)
A total of 156 Rooms are available in Double Tree, Abu Dhabi, which are divided into the following categories:
King Accessible Studio (USD 267)
King Studio (USD 659)
King One Bedroom Apartment (USD 739)
Twin One-Bedroom Apartment (USD 349)
One-Bedroom Apartment with a terrace (USD 380)
Two Bedroom Apartment (USD 358)
Three Bedroom Apartment (USD 1000)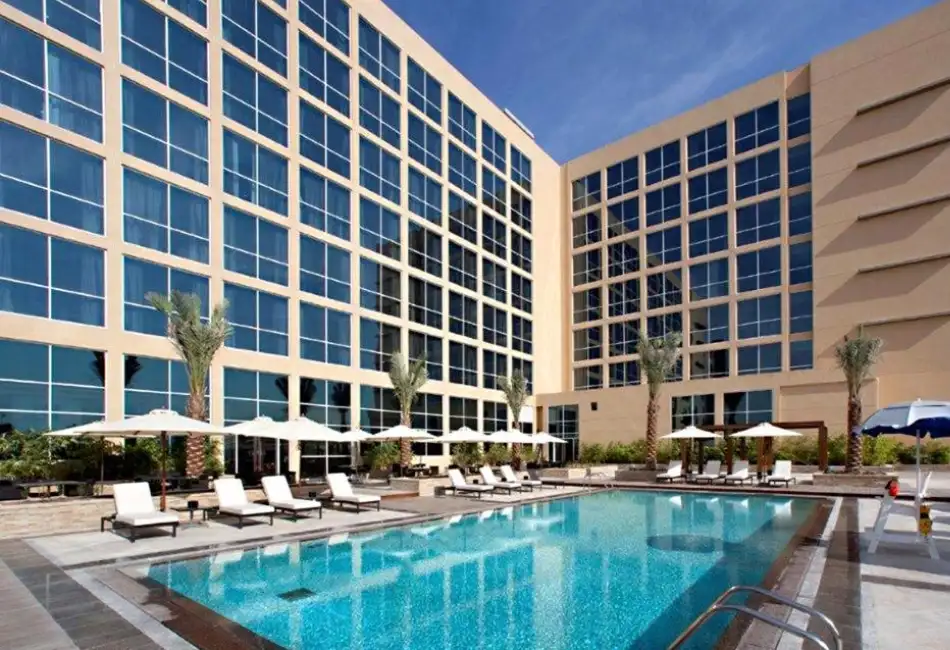 Another hotel in Yas Island with a favorable location is the Centro to which various tourist attractions like Yas Marina Circuit, Yas Marina Promenade are located with just a doorstep away. Among various facilities provided by the Centro, the top Amenities include a fully equipped business center and a 24-hour on-site shop. The Centro comprises 259 hotel rooms, all of which are centrally equipped with the basic mandatory requirements of any visitor, like an outdoor pool, high-speed Wi-Fi, shuttle bus service (which can take you to various tourist attractions), and many others. Many other tourist attractions which are located just at a distance of 20-40 minutes are listed below:
Warner Bros World
CLYMB Abu Dhabi
Yas Waterworld and Ferrari World Abu Dhabi
Yas Mall and Yas Beach
Apart from that, more than 55 restaurants are present near the Centro within a range of 1 KM. All the facilities available at Centro, including various additional amenities, make it a perfect place for any tourist, especially the traveling visitors. Around 259 rooms are available in Centro Island within a price range of USD 182-523. Refer below to get more details on accommodation charges in Centro, one of the best hotels in Yas Island, Abu Dhabi:
Premium Plus-Twin Bed (USD 343)
Queen Bed with Fee Beach Access (USD 196)
Centro Room -Twin Bed with free beach access (USD 182)
Classic Room-Queen Bed (USD 523)
Interconnecting Family with free beach access (USD 270)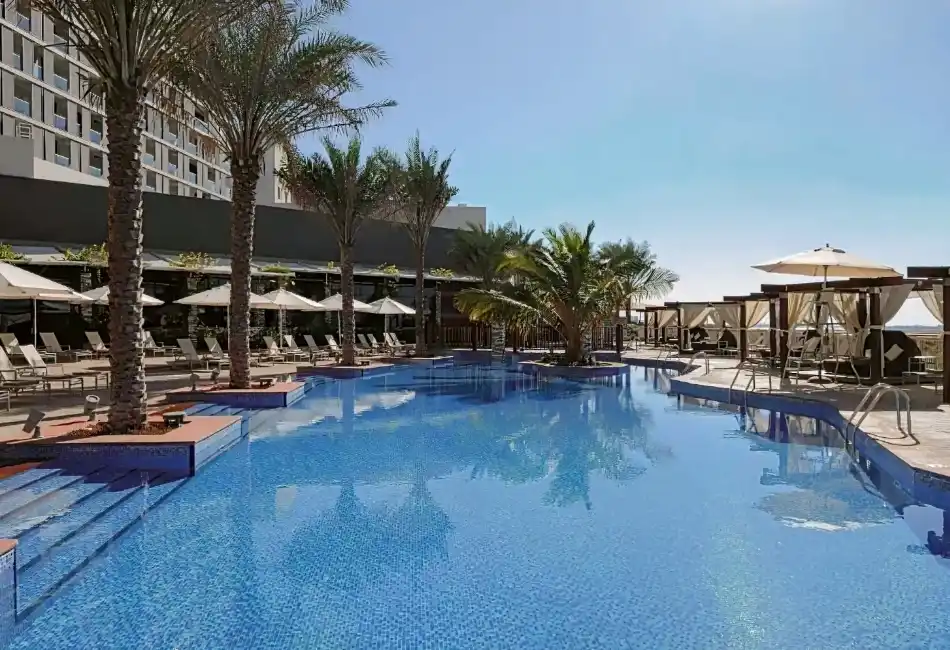 This modern hotel in Yas Island provides 204 rooms, all of which are equipped with all the mandatory facilities like free Wi-Fi, glossy decor, deluxe mattresses, and state-of-the-art headboards. Apart from that, the rooms are very spacious and equipped with color-changing LED headlights and many others. Another major specialty is the panoramic view of the Arabian Gulf blue waters. All of these factors contribute to providing you with a pleasant stay at Yas Islands in Abu Dhabi. All the major places at Park Inn are situated within a distance of 15 minutes. 204 rooms are available in Park Inn Abu Dhabhi with a price range of USD 267-USD 549.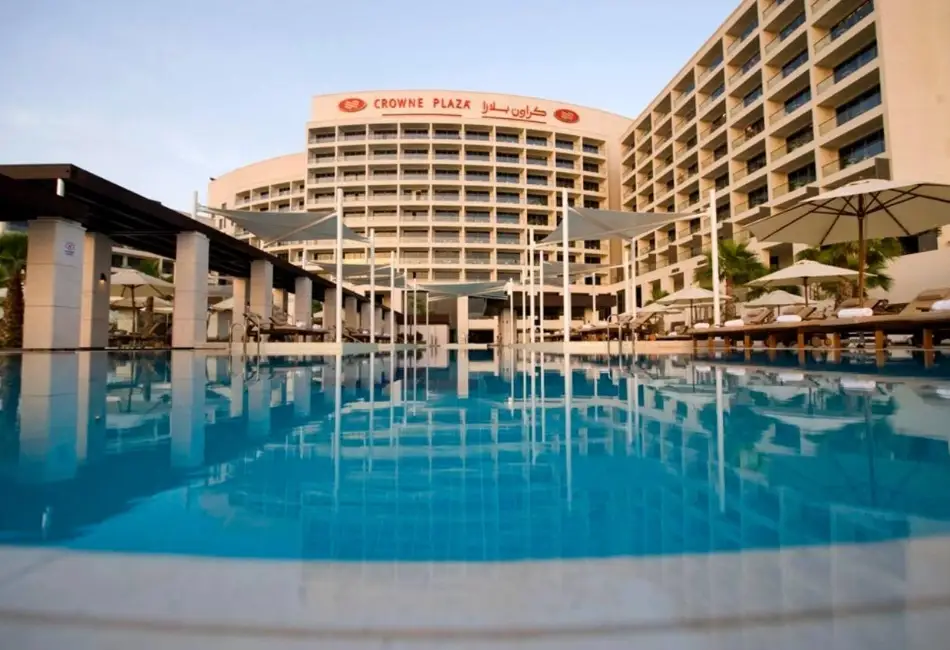 The Crowne Plaza is one of the best hotels in Yas Island Abu Dhabi for which any tourist craves to make a reservation. Situated at a favorable location which is 10 minutes from Airport and within 45 minutes distance to any tourist attraction in Yas Island. The hotel comprises 428 rooms along with all the major amenities like a pool, gym, pool bar, spa, and business centre. The Crowne Plaza comprises five meeting rooms with the largest capacity of around 600 people, which makes it a favourable option for organizing various conferences and other formal gatherings. Along with that, the hotel staff is well versed with whom you can easily communicate as they know all the major languages of Different continents (English, Spanish, Italian, French, Hindi). Unlike other major hotel, the Crowne Plaza offers pet accommodation also with a special pet walking area.
Major Restaurants in Crowne Plaza, Abu Dhabi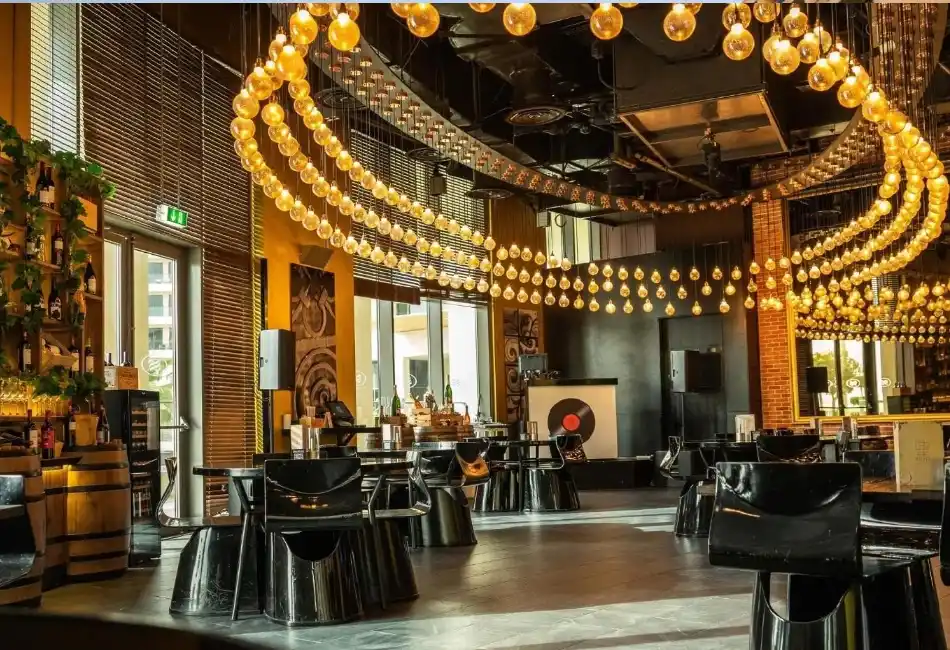 Visitors can find some world-famous restaurants in Crowne Plaza. Following are some of them:
Barouk Restaurant: The Barouk is one of the famous Lebanese restaurants where users can enjoy Lebanese-based Restaurants with an awesome view of the Gulf. This Lebanese is all filled with famous European signatures and brews to which any visitor can indulge themselves and party all night long.
Stills Resturant and Bar: Another world-famous restaurant in the Crowne is the Stills Resturant which serves all the European Classics along with a pinch of low lighting and live music. Visitor can enjoy their meals on the terrace location. All these things make the Stills Restaurant a perfect spot for having a romantic where you can engage with your partner in a lovely conversation along with enjoying romantic music. All that is required from you is that you enjoy your awesome European Classic and finish it with a Pina Colada Panna Cotta. 
Jing Asia: Last but not least, another famous restaurant located inside the Crowne Plaza is Jing Asia. Here visitors can enjoy all Asia-originated drinks like hot and cold mezze, biryani, sushi, and different sea foods. Just like other major restaurants, visitors can enjoy an unequalled terrace view.
At Crowne Plaza, 428 rooms are available for accommodation charges ranging from USD 214-318.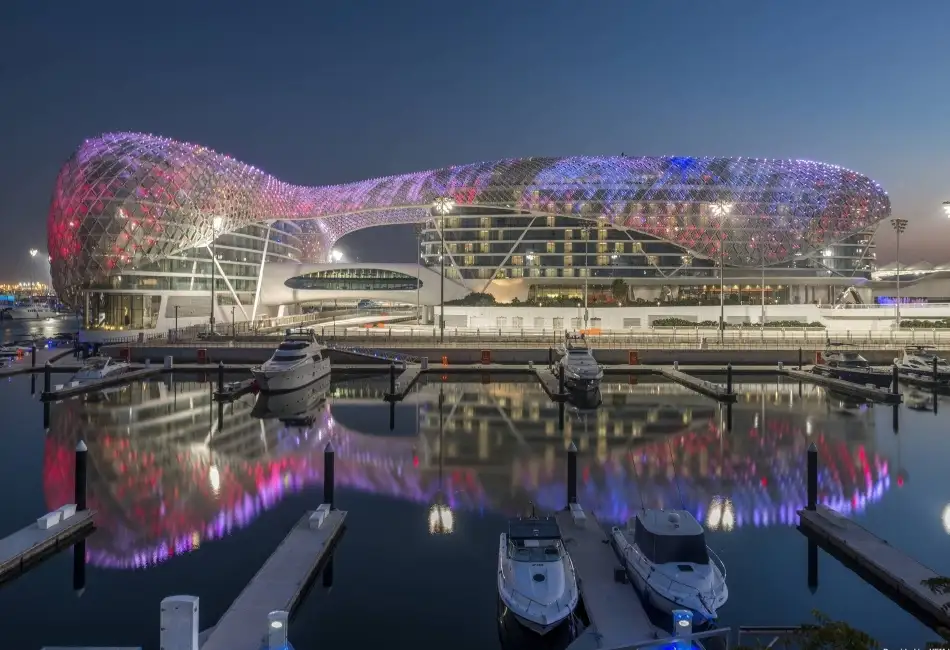 The WB Abu Dhabi is the first-ever Warner Bros Hotel in the world. Apart from all the basic mandatory facilities, the WB Abu Dhabi provides a "dive-in" music theatre, a kids club pool complex, along with five restaurants. Another major factor why this hotel can be the preferred option for visitors looking for accommodation on Yas Island is its favorable location. The WB, Abu Dhabi, is located within a five minutes distance of many tourist spots like Yas Waterworld, Ferrari World Abu Dhabi, and many others. This Warner Bros hotel comprises 257 rooms along with various other amenities like Free Parking, Free Wi-Fi, Fitness Center, Outdoor Pool, Concierge, Meeting rooms, Airport Shuttle, and many others. The accommodation charges for various rooms range from USD 484-1399.
The WB Abu Dhabi can be a perfect spot for couples with teenage kids. Parents can find various entertainment spots for their children. Some of them are Batman: Knight Flight, Tom, and Jerry: Swiss Cheese Pin, Fast and Furry-OS roller coaster ride, entertainment central, and many others. Below, are some famous restaurants located in WB Abu Dhabi are listed below:
The Starlight
Hollywood Trattoria
Celebrity Scoop
Beverly Hills
Bronto Burger and Ribs
Big Belly Burger
Mammoth Punchies, and many others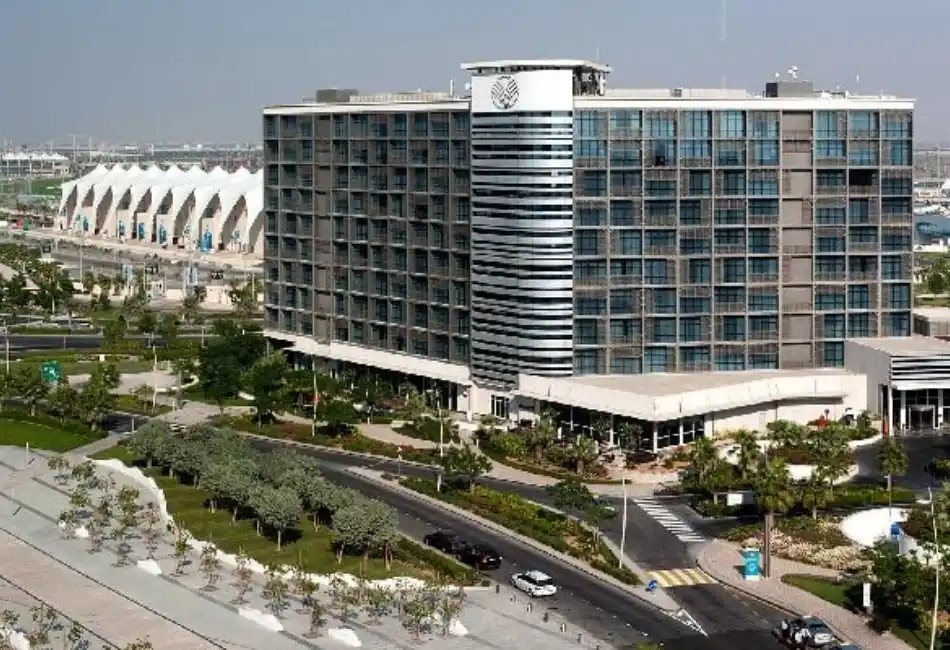 Another top pick-up for people looking for accommodation while staying in Abu Dhabi is Yas Island Rotana. The Hotel is a perfect choice for any person who is on a business trip. Also, the person who wishes to provide their family with a perfect holiday experience can check in here. This Rotana Hotel is located at the ideal location with just a few minutes distance to a major theme park. Below are some of the additional amenities which make Yas Island Rotana distinct from other 5-star hotels:
A Kid's club with an indoor playground, a video games center, and many other indoor games equipment.
Free shuttle service to all tourist attractions. 
9 Meeting rooms/Ballrooms that can be utilized to organize business events.
The Yas Island Rotana comprises 308 rooms which are listed below:
Classic Room-King or Twin Beds (USD 648)
Premium Room- King or Twin Beds (USD 557-USD 687)
Premium Suite Classic Suite-King Size Bed (USD 442)
Two Bedroom Suite (USD 454)
Premium Plus 
Interconnecting Room (USD 216)
Famous Restaurants located inside Yas Island Rotana are:
New Grills: The New Grills is a perfect steakhouse place for anybody looking for anything American, South African, or Australian. Apart from that, fresh seafood is the specialty of New Grills, which you can enjoy along with a specific wine paired with each dish. Along with a terrace or a cozy booth, this place is a perfect spot to host a romantic dinner for your partner.
Rangoli: Nowadays, Indian dishes are being added to the list of every foodie who at Yas Island can enjoy all these dishes at Rangoli. Along with some wine, and popular dishes, you can enjoy our Tandoori Jhingha Masala, Kori Gassi, Kashmiri Rogan Josh, and many others.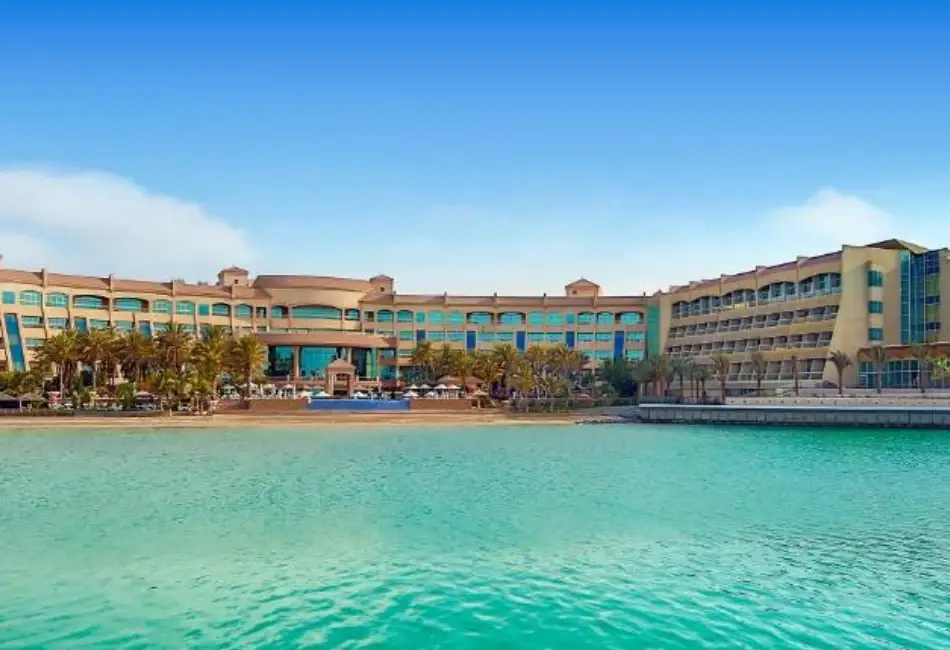 The 5-star Al-Raha beach hotel is a perfect place for the people leisure and business travelers. The Al-Raha hotel comprises 254 rooms along with eight restaurants and bars. Next to Al-Raha Hotel is the Al-Raha Mall situated on Al-Raha Corniche ( a perfect spot to see the sunset). Another amenity is the private beach which the hotel owns. Here, visitors can freely enjoy the 900 m sand beach. Other amenities available in this hotel are:
Free Parking
Free Wi-Fi
Fitness Centre and Spa
Bar
Beach. 
The rooms Al-Raha are affordable for the holiday planner and comprise all the mandatory facilities required by any resting traveler, like Free room services, Minibar, a Flatscreen TV for amusement, Housekeeping, a private balcony, and many others. Special packages are available for the people during the time of Eid, a major festival in the East.
Connect with us to Get More Information
Users, in case they want, can reach out to customer support in order to get other information. Basic info like travel charges, available flights, seat vacancies, travel policies, or any other travel-related queries. Our customer support experts have the required expertise in providing all travel-related queries, especially last-minute hotel deals Yas Island. So, if you are planning a trip to Hotels in Yas Island, you can connect with us to get all travel-related information. 
From the above discussion, we have listed some of the major Hotels in Yas Island & Beach. Any holiday planner who is going to visit Abi Dhabi can check out the list above while making reservations. We might have missed some of the major hotels. However, some of the top and most affordable hotels in Yas Island are listed. Those places can be the perfect accommodations for some looking hotels in Yas Island. Along with their name, we have provided some major details regarding these hotels. These details include the number of rooms, prices range for accommodation, major restaurants located in these hotels, etc. Now in case you need more information, then connect to us through the number given below. You can also just hit the help option to enable the Live chat.