Facts You did not Know About the Southwest Airlines Pet Policy
Pets are not pets anymore; they are more like our family. And we know how hard it is to leave our family behind. With Southwest Airlines' pet policy, you and everybody else can bring their pets if they're on board with them. But, wait, it is more challenging than it may sound. To bring your pets on board, you may need to follow certain rules & regulations depending on the Southwest Airlines Pet travel policy. Let's get started:-
Guidelines of the Southwest Airlines Pet For Cats & Dogs
Per the Southwest carry-on Pet Policy, passengers can bring their pets at least eight weeks old to travel comfortably in the cabin. It may not be as easy as it may sound, but there's more to it. On most Southwest Airlines flights, passengers can only bring up to 6 pet carriers in the main cabin. As for each passenger, they can only bring one pet carrier with them, and the pet reservations are based on who comes first and boards the plane. 
Those traveling with a pet must check in at the airport before boarding the plane. Remember, the pet carrier must fit under the seat before you or in the overhead bin. If your pet exceeds the given weight restrictions, it won't be able to fly on board as it cannot travel as checked baggage.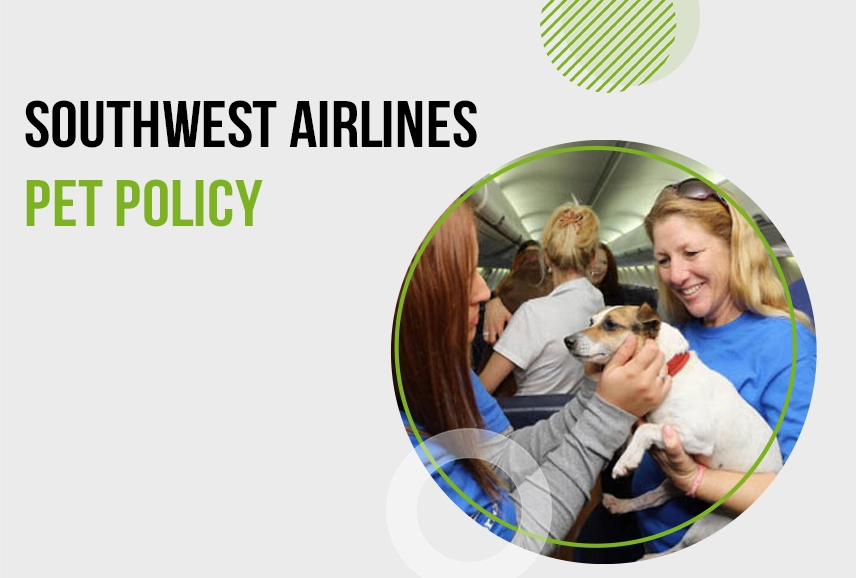 Do you know that your pet will be denied boarding if he's found showing these symptoms?- 
Biting 

Non-stop barking
Continuous whining
Growling at other passengers
Lunging & scratching the owner
According to the Southwest Pet Policy, pets must always remain in their pet carrier. And the carrier should be big enough for the pet to move around properly and sleep comfortably. When traveling with a pet, you won't be able to sit in an exit row or the bulkhead. According to the Southwest Airlines pet policy, unaccompanied minors cannot travel with a pet. 
Southwest In-Cabin Pet Policy
If you want to travel with your Pet in the cabin, then there are some things that you must keep in mind. Starting with the pet carrier size, the size, and dimensions must be according to the size, which is 8.5X18.5X13.5 Inches to be precise. If you have a soft-sided carrier, then make sure to check if it's fully compressed or not. As per the Southwest Airlines pet policy, the Pet must have enough space to move around properly inside the carrier, and your carrier must have all the necessary arrangements, such as proper ventilation & waterproof bottom.
How Much you Need to Pay for Traveling with your Pet?
Southwest Airlines usually charges a decent amount to passengers who want to take a trip with their pets. You would have to pay around 95 dollars each way, which means at least 190 dollars for a round trip. However, travelers have to pay a fee in advance when they reserve a seat on the plane to ensure that their Pet has at least one seat from the total of six spots reserved for the Pet. 
If your pet is no longer traveling with you but has already paid the pet fee, it will get refunded to you. Nonetheless, if your Southwest flight is canceled by the airline itself, you will still have the option to refund your pet fare, or even better, you can transfer it to another flight you have booked for yourself. Therefore, passengers cannot use your pet fee. In addition to that, passengers can opt for a credit card, which is offered by the airline itself. Apart from credit cards, the airline also offers platinum and American Express cards. 
Hacks You Must Know Before Flying with Your Pet on Southwest Airlines
If you are flying with your Pet, there are some tricks and tips you must know to make your travel even easier with pets. Here's what you would have to keep in mind;- 
1. Go to the Official On-Site Pet Page
To learn more about Southwest's Pet Policy, the passengers must navigate to their on-site page as they tend to upgrade it occasionally. However, checking out the page exactly a week before your flight is advised to get more information about the Pet-related travel. 
 2. Do not forget to check with Your vet
Southwest Airlines only allows pets on board if they are properly vaccinated. And to verify that information, you must check in with all the necessary documents for a smooth travel. Also, to be cautious, you must first consult with your Pet to determine if your Pet can fly for long hours. 
Did you know dog breeds such as pugs and bulldogs are not allowed on most flights due to respiratory issues? That is why there is always time to consult your vet and find out what's best for your Pet. 
3. Take Your Pet on Washroom Breaks Before Boarding

Since your Pet will be in his carrier the whole time during the flight, it is best to take them on enough washroom breaks before your scheduled flight. However, every airport has at least one bathroom dedicated to the pets, so take your pets to enough bathroom breaks. 
Requirements For Your Pet Carrier
Those traveling with their pets must carry them in their pet carrier. Also, there happen to be some rules & regulations regarding pet carriers, such as:-
If you are bringing your pet in a carrier, you must know that each carrier can carry up to 2 pets approximately. 
As per the Southwest Airlines pet policy, the pet carrier must be at least 17×9.5×10 inches in size and fit under the seat in front of you. 
Your pet carrier can either be soft-sided or hard-sided. 
Also, remember that your carrier must be waterproof, leakage-proof with proper ventilation, etc. 
Note: The pet carrier will be counted as a carry-on baggage allowance, or you can carry it as a personal item.
How Much Do you Have to Pay for Carrying your Pet on Board?
As per the Southwest Airlines pet policy, passengers may have to pay a certain amount for carrying their pet on board with them. Regardless of your ticket type, you will have to pay at least 95 dollars for a one-way flight. That's not all, and the pet fee is somewhat refundable. So, even if your plan changes at the very last moment, you will get your money back as a refund for the original payment method you used during the reservation.
Additionally, passengers must pay the reservation fee with their credit card, as you cannot use the Southwest gift card or any other travel voucher.
Can I Travel with my Pet in the Cargo Section?
Most airlines allow their passengers to travel with their pets in the cargo section, but that's only sometimes the case with every other airline. Southwest Airlines carries no pets, including cats & dogs, as cargo. By all means, you cannot transport your Pet on the Southwest flight cargo section.
Southwest Airlines Pet Travel Policy For Service Animals
Every airline does allow service animals on board for free of cost. However, if you are one of those passengers traveling with a service animal, you must provide proper documents for your Pet. This may include a handwritten note from your vet, pet health certificates, and a behavior form. Therefore, the passengers traveling with the service animal must provide a proper reason why they must travel with the service animal in the first place. 
The passengers can bring dogs, cats, and miniature horses as service animals, but you cannot bring any exotic animals as service animals. However, in some circumstances, you may have to purchase an additional seat for your Pet if it's bigger than the children under two. Once you have purchased the seat for your service animal, you can place your service animal in a pet carrier and put the carrier under the seat. Here comes the best part: while traveling with service animals, the passengers can put them on their lap or the tray table. 
Note:- Southwest Airlines does not consider service & emotional support animals as pets, meaning you can bring a service animal and a pet on your next Southwest Airlines flight. 
Traveling with a pet can be a hassle if you do not follow the right steps. The procedure becomes easier with the Southwest Airlines pet policy, and you can travel with your furry friend without any issues. The pet policy states that all pets must travel in a pet carrier, and the carrier must fit under your seat in front of you. Remember that the carrier must stay within its size limitations. Otherwise, you cannot bring your pet on board. Also, you cannot transport your pets via the cargo section. For more information regarding this topic, you can visit our official website or get in touch with us using our official website, or you can contact us via the live chat facility.
See More Southwest Realated Post
What is Southwest Airlines Unaccompanied Minor Policy?
Southwest Airlines Baggage Policy
Southwest Airlines Flight Change Policy
Frequently Asked Questions
Ans. According to the Southwest Airlines Pet Policy, it will cost you between $95 to $400 dollars to bring your pet carrier. Meanwhile, the passengers can bring at least two dogs or two cats in one carrier. Keep in mind, the pet carrier must be big enough for your pet to move around freely and sleep peacefully inside.
Ans. One thing you must know is that the pet requirement may change depending on the airline to airlines. As per the Southwest airlines flight pet policy, the pets must be able to sit & move around comfortably in the carrier. However, you cannot let your pet sit on your lap throughout the flight as it is important for the pet to stay inside his/her cabin throughout the flight. Passengers can keep the carrier under their seat which in front of them.
Ans.
To add your pet to your reservation, you would have to follow these steps;-
If you want to add your reservation, you can contact the airlines at least 48 hours before the scheduled departure.
You can check-in at the ticket counter with the permission granted by the officials.
However, if you are travelling with your pet then it is advised to check-in at least 2 hours before the final boarding call.
Connect with an agent and complete all the given checklists on time.
In some cases, the airline may ask you to provide some health documents related to your pet's health and submit it to the airline for further questions.
Ans. This may come off as a surprise, but your dog needs a passport too. According to the Southwest airlines pet policy, all the pets travelling from/to the United states needs a passport. Remember, if you are travelling within the USA, then a passport will be considered as an extra documents that you may need to fly to other countries with your pet
Ans. As per the Frontier Airlines Pet Policy, all the flights departing from US as well as international flights to and from Dominican Republic & mexico allows pets in the cabin as well. Apart from dogs, cats and rabbits, guinea pigs, hamsters and small household birds are permitted in the cabin as well.