The Navy Pier is a major tourist spot in the city of Chicago. Located in the Streetervile on the shore of Lake Michigan, this 3300-foot-long pier has a hold of around 50 acres of the area that comprises parks, gardens, exhibitions, and family attractions. All these things make the Navy Pier a major tourist attraction with around more than nine million annual visitors. With that many visitors planning to spend their holidays, it becomes difficult to find the perfect accommodation. 
Keeping that in mind, we have here listed some of the best hotels near navy pier in downtown, in Chicago. All the hotels listed here fulfill all the parameters that any person looks at while booking accommodation like budget, availability, and minimum distance from the destination. So, hang on with us till the end of this blog to find perfect accommodation i.e. best Chicago Hotels near Navy Pier.
Best Hotels Near Navy Pier in Downtown (Chicago)
Check out the top 10 hotels near Navy Pier in Downtown are located. Although the list might have left out some major hotels accommodation, the ones listed here can be suitable for visitors based on various preferences like budget, facilities, and many others.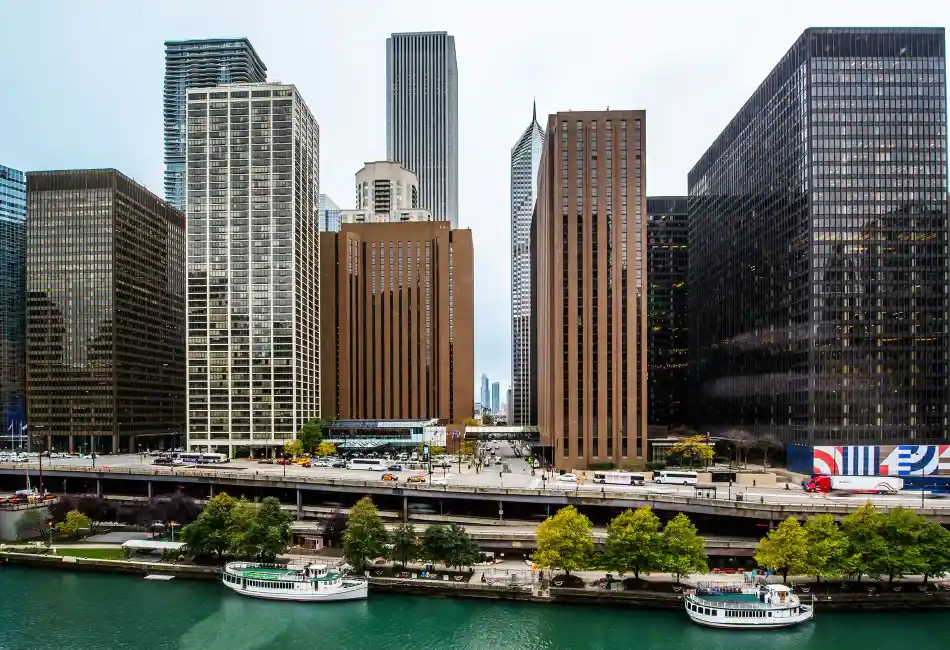 This extension of the Hyatt is currently one of the largest hotels on Navy Pier Chicago. Along with the pier, this hotel is located at a walkable distance from various other tourist attractions in Chicago. Some of them are Millenium Park, Chicago Riverwalk, Magnificent Mile, and Lake Michigan. Major amenities available in the Hyatt Regency are free internet, a fitness center, laundry, and a digital key. Providing great hospitality is the well-versed multilingual staff who understand and communicate with you easily in your native language. The hotel also comprises a currency exchange which can be a relief for any international visitor to Chicago.
The Hyatt Regency Chicago comprises more than 2000 rooms, each of which comprises a spacious workstation, high-speed internet connectivity, a coffeemaker, and a mini refrigerator. Along with that, you can enjoy an awesome of the Navy Pier through the Floor-to-ceiling windows. The following information can be useful for you to know before booking accommodation in Hyatt Recency Chicago:
Total Number of Rooms: 2032
A number of Meeting Halls: 84
Accommodation Charges: USD 199-599
Distance from the Navy Pier: 1 Mile
Major Attraction Located nearby Hyatt Regency in Chicago are:
Maggie Daley Park
Chicago's Children's Museum
Soldier Field
Lincoln Park Zoo and Conservatory
Field Museum
Art Institute of Chicago
Buckingham fountain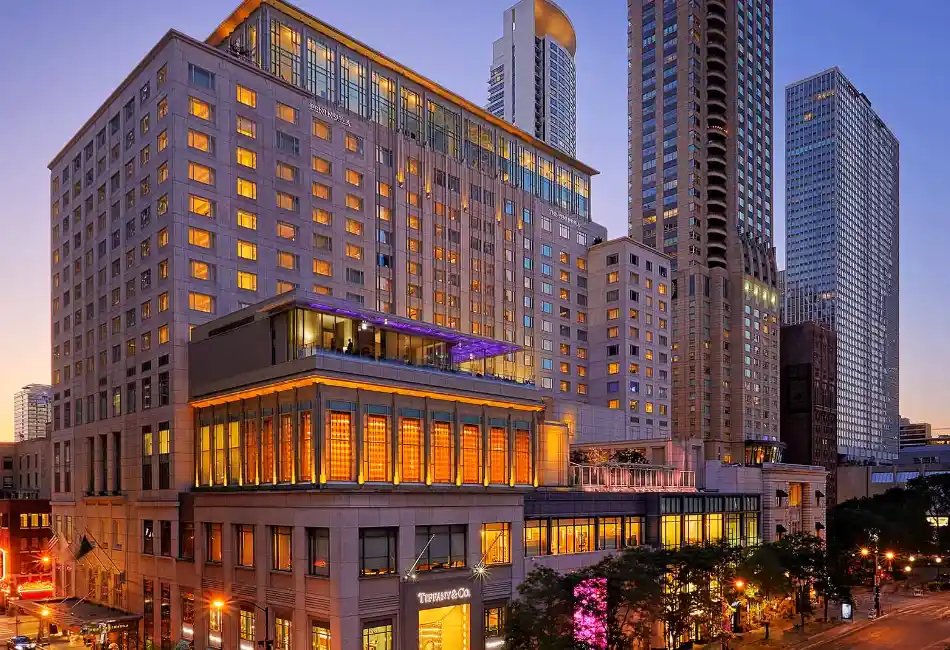 Another one in the list of the major 5-star hotels near Navy Pier Chicago is The Peninsula Chicago. This hotel is the perfect accommodation spot for any tourist who is seeking a luxurious and peaceful stay while visiting the Navy Pier or any other major tourist spot in Chicago. Along with accommodation, this hotel is a number one preference for hosting various events like marriages, meetings, or any other major gathering. For dining, you can locate around 6 restaurants inside the hotel some of which are well-renowned in the city of Chicago. Along with some of the amazing dining spots, you can enjoy an amazing afternoon at the Peter Rabbit (also located inside the Peninsula Chicago). 
What contributes more to the peaceful experience is the "Life Lived Best" initiative by the hotel. This comprises various offerings, activities, and classes. All of these are focused on enhancing the wellness and nutritional well-being of your body. For a more peaceful experience, you can visit the Peninsula Spa, which is inspired by Asian and Ayurvedic practices to give your body a more relaxing experience. Major amenities available in this hotel include an Indoor pool, Wellness spa, valet parking, free internet, babysitting facilities, and a business center.
Following is some of useful information regarding Peninsula Chicago:
Number of Rooms: 339
Accommodation prices: USD 299-1399
Distance from the Navy Pier: 1.3 Miles
3. Hotel EMC2, Autograph Collection Chicago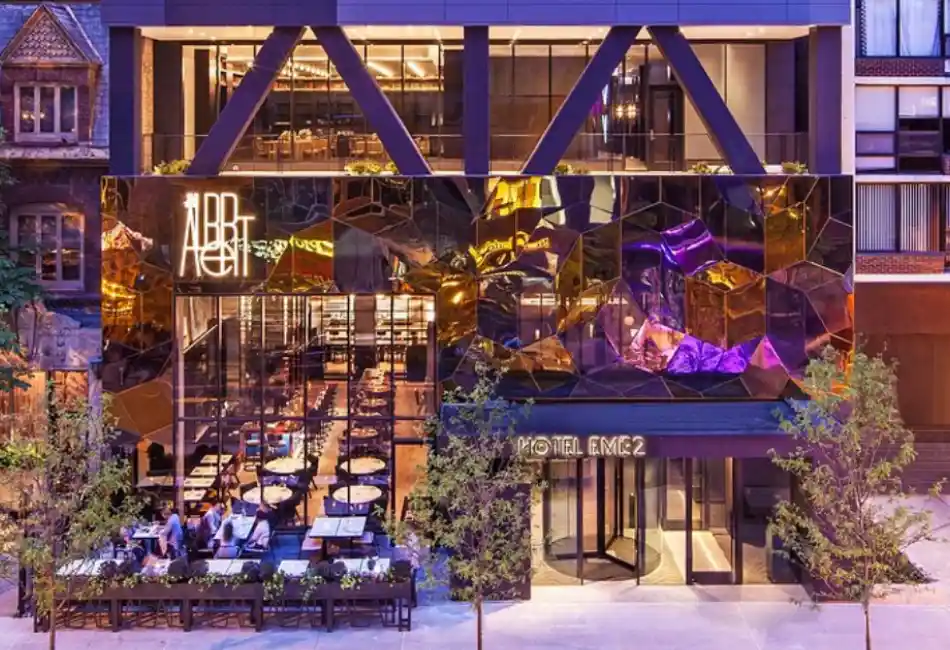 An extension of the Marriott Hotel chain, this 4-star is among the best hotels near Navy Pier, Chicago. The hotel comprises all the amenities like free parking, valet, fitness center, and a 24-hour front desk. Each room present inside the Hotel EMC2 is well spacious, along with all the basic facilities like a flatscreen TV, safety deposit box, luggage storage, and heating. Along with that, you can enjoy an amazing view of the city and the navy pier. The EMC2 is present at a very favorable location with 1 mile equidistant from both the navy pier and the millennium park. Other information related to accommodation and tourist location is listed below:
The number of available rooms inside Hotel EMC2:
Accommodation prices: 195
Distance from the Navy Pier: 1 Mile (5 minutes)
Accommodation Prices:  USD 299-399
4. DoubleTree by Hilton Hotel Chicago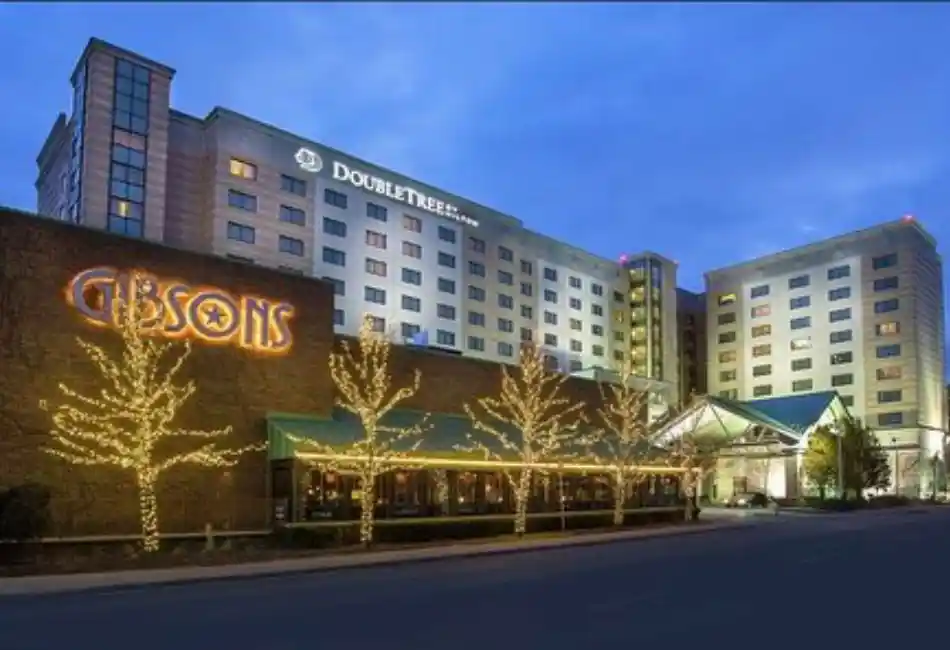 The DoubleTree Chicago downtown is one of the major hotels near Navy Pier in the city of Chicago. The hotel provides all the major amenities which are required by each and every while having accommodation in a hotel. The Double Tree by Hilton comprises of interconnecting rooms, pet-friendly spaces, meeting halls, an outdoor pool, and a fitness center. All these things make this hotel a perfect accommodation spot for a family visit. Different rooms inside the Double Tree Hilton comprise a flat-screen TV, air-conditioning, and many other mandatory facilities. Major information which you need to know regarding this hotel is listed below:
Total number of rooms in doubletree: 404
Distance from the Navy Pier: .7 Mile
Accommodation Budget you need to have for a stay in the DoubleTree by Hilton: USD 299-399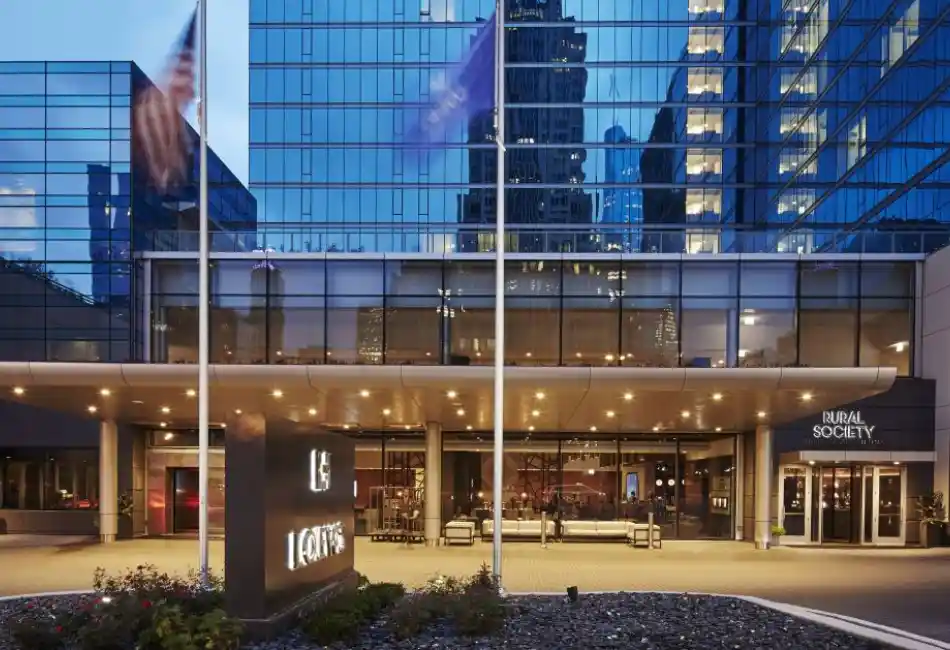 Another major 4-star hotel located near the Navy Pier is the Loews Chicago Hotel which comprises lavishing rooms &suites, business and meeting halls, and amazing dining restaurants. All these things contribute to the fact that you can have a comfortable stay inside the Loews Hotel. A car rental facility is located nearby the hotel, which provides you an affordable riding to explore the city of Chicago. Major attraction apart from the navy pier includes The Magnificant Mile, Chicago Riverwalk, Grant Park, Millennium Park, and many others.
Number of rooms: 400
Distance from the Navy Pier: 7 miles
Price per night: USD : 199-699
6. Radisson Blu Aqua Hotel, Chicago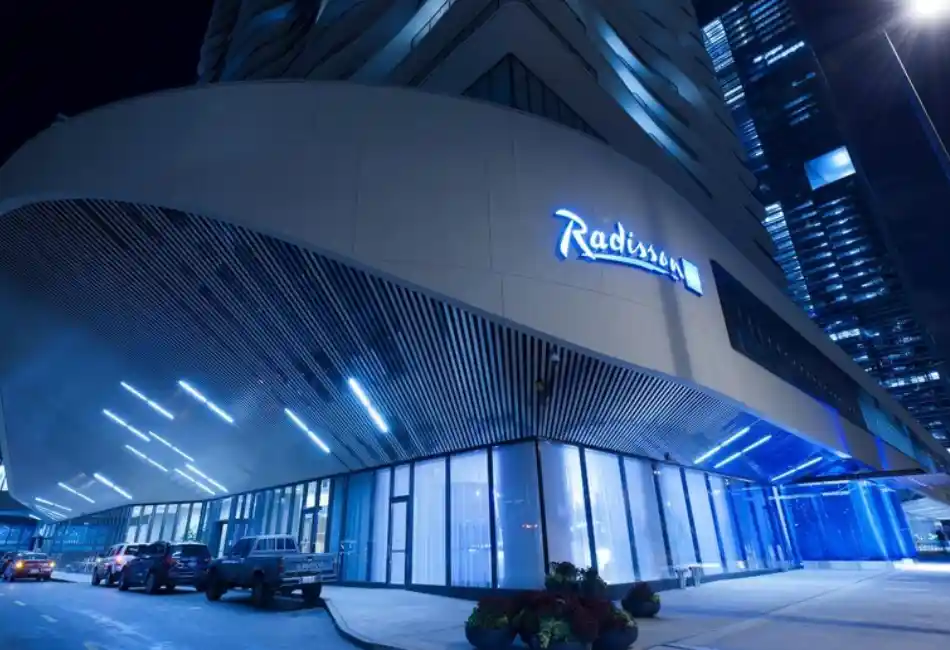 Just a mile away from downtown Chicago is the Radisson Blu Aqua. This is one of the major 4-star hotels closest to the Navy Puer. Visitors to the Radisson can enjoy a view of the city of Chicago from each room of this hotel. You can bring your pets inside the Radisson Hotel. Major amenities provided in this hotel include an indoor pool, fitness center, and swimming pool. For dining, a fire Lake Grill House is located inside the hotel, where you can enjoy a Weekend brunch or just have the All-day menu with amazing dishes.  
Number of Rooms available in Radisson Blu Aqua: 334
Accommodation charges for a single night: USD 149-599
Distance from the Navy Pier: 1 Mile
7. Fairmont Chicago - Millennium Park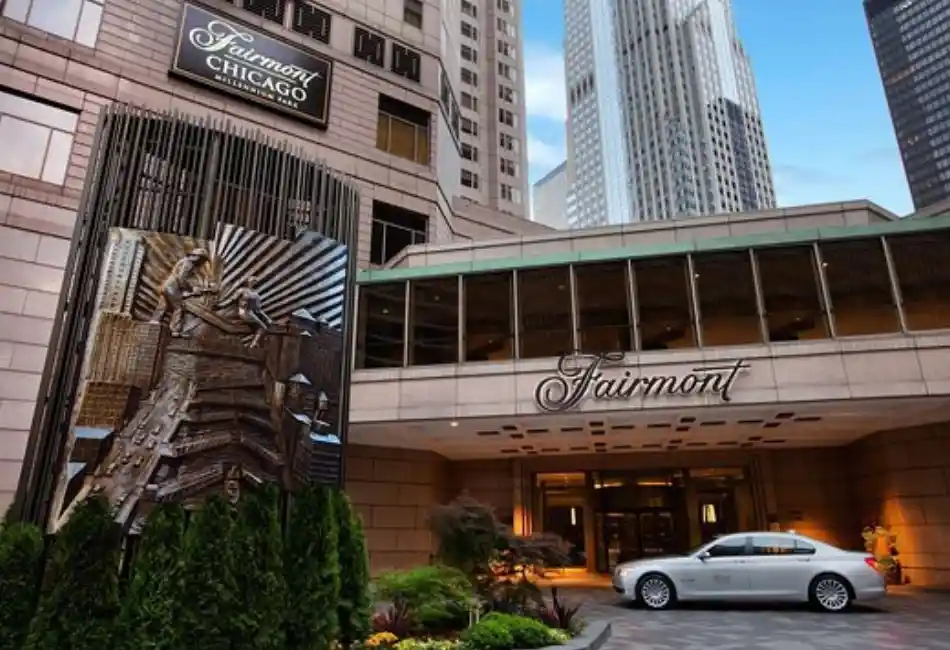 The Fairmont Chicago is the number one option for anyone looking for the closest hotels to the Navy Pier Chicago. This 4-star hotel offers a luxury and sophisticated star downtown with easy access to other major tourist destinations in the city of Chicago. Inside the hotel, you can find a fitness center, an opulent Spa a swimming pool, along with other major amenities that can make your stay comfortable, peaceful, and memorable in the city of Chicago. Major restaurants and bar located inside Fairmont Chicago that can be a perfect spot for dining and chilling includes Columbus Tap and The BAR. The Leaf Spa is the famous spa at the hotel, which includes eight treatment rooms to provide you stress-free environment. Major information regarding this hotel includes:
Number of Rooms for accommodation: 687
Price for stay for a single night: USD 299-499
Distance from the Navy Pier: 1.5 Miles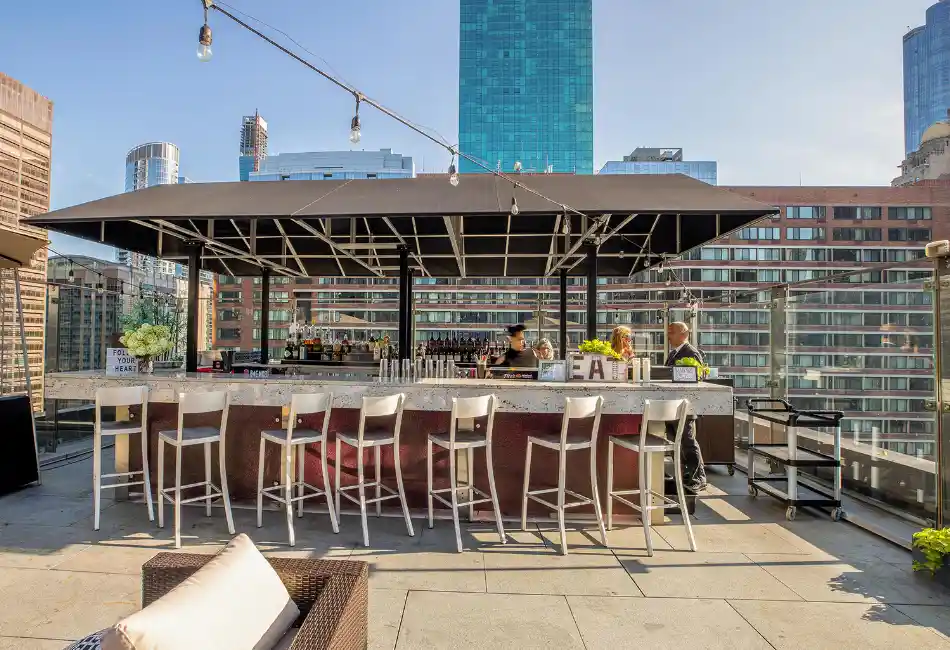 The next best 4-star accommodation located within walking distance of the Navy Pier Chicago and another major tourist in downtown Chicago is the Ivy Hotel, Chicago. The hotel is the major preference among first-class tourists for accommodation and also a major spot for hosting major events like marriages and other gatherings. The Ivy Hotel comprises of … rooms in which each and every one comprises of a flatscreen TV, a fully stocked minibar, spacious work desk, Iron and ironing board, and a rainfall shower in the bedroom. Available information for this hotel is listed below:
Total number of rooms: 63
Accommodation prices for one night: USD 149-349
Distance from the Ivy Hotel: 1 Mile
9. Chicago Marriott Downtown Magnificent Mile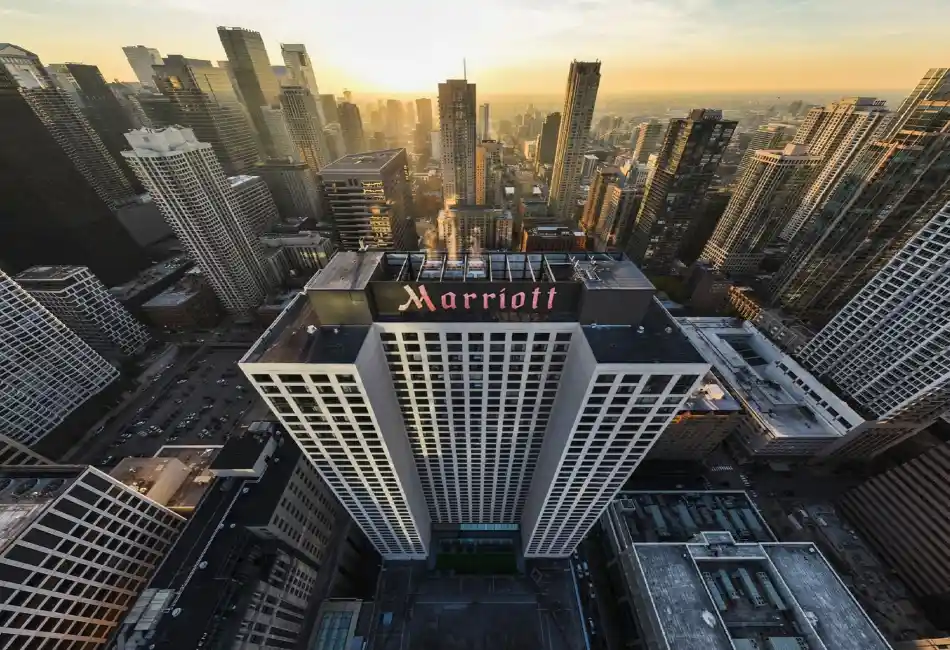 Another Extension of the Marriott, the Chicago Marriot Downtown Magnificant Mile, is the perfect accommodation spot for families who wish to enjoy their holiday in the city of Chicago. The hotel is located in the Magnificant Mile, the major commercial area of Chicago, from which users can have access to more than 150 restaurants and bars within a one-mile radius. More than 40 meeting rooms are available inside the Marriot Chicago, which can become a perfect spot for organizing major events like marriages, meetings, or any other gathering. The highest capacity of any meeting hall in a seating arrangement is 2200 people. Other information regarding this hotel is listed below:
Total Number of Rooms Available in Chicago Marriot: 1200
Accommodation prices range per night: USD 299-399
Distance from the destination: 1.6 Miles
10. The River Hotel Chicago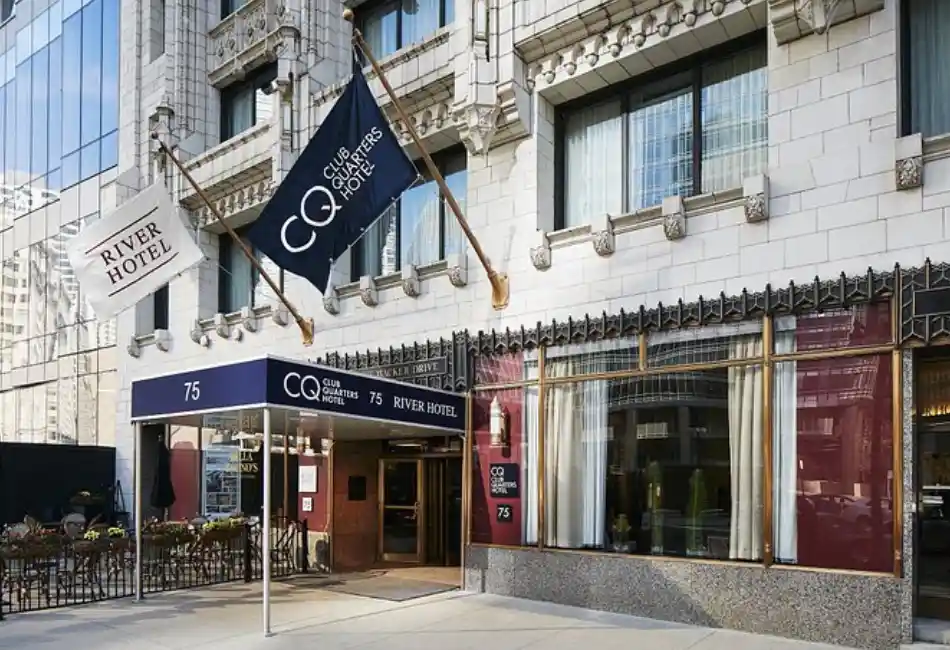 Last but not least in the list of major hotels located near the navy pier Chicago is this 3-star River hotel. Although not a luxury hotel like any other 5-star one near the navy pier, it comprises all the mandatory facilities which can be required by visitors that can make their accommodations comfortable. Each and every room inside the River hotel chicago comprises free internet connectivity, a water purifier, a tea/coffee maker, and a smart TV which makes any room inside the River Hotel a perfect accommodation spot. For Dining, major restaurants include the Deep Dish Pizza, Land & Lake Kitchen, and many others. Below is some useful information regarding this hotel:
The total number of rooms available: 121 rooms
Accommodation charges: USD 149-349
Distance from the Navy Pier: 1.2 Miles
In the above discussion, we have listed the best ten hotels near Navy Pier in downtown, which is the top tourist attraction in the states. Along with that, we have provided some major pointers regarding each hotel. Based on that, you can decide which one is the best based on preferences. Now if you further need any assistance regarding the hotel or need some travel-related information, then you can connect with Tours n Travel from the number given below. You can also use the live chat option through which you can get connect with us immediately and get the required assistance.