Abu Dhabi is currently one of the top tourist destinations in the world. Due to its tropical and geographical features like beaches, desert, and many others, it is on the list of every tourist who is seeking a perfect holiday. Be it a peaceful holiday or a thrilling experience, a tourist can have any type of experience. All they need to do is to come to Abu Dhabi. The first requirement of any holiday planner is to find the perfect accommodation which suits their requirement. Having a variety of options, the tourist sometimes is not able to decide where to confirm their stay. 
Thus, to clear the doubts of any regular tourist, we are here going to list some of the best hotels in Khalifa City, Abu Dhabi. From that list, you can find the right hotels which suit your requirements. Read the article further to get the list of the best hotels in Khalifa City.
Best Hotels in Khalifa City, Abu Dhabi
Here we are going to list some of the major hotels where you can find easy accommodation while visiting Abu Dhabi. Along with the name of these hotels, we are going to list all major highlighting features which will be enough to convince you why you book accommodation in these hotels. The list will include all the 4-star and 5-star hotels which provide perfect accommodation at fair locations from major tourist attractions of Abu Dhabi. Some of the major ones might be left out of this list. However, the ones mentioned here will be suitable as they match all the major preferences that tourist lookout while looking for accommodation.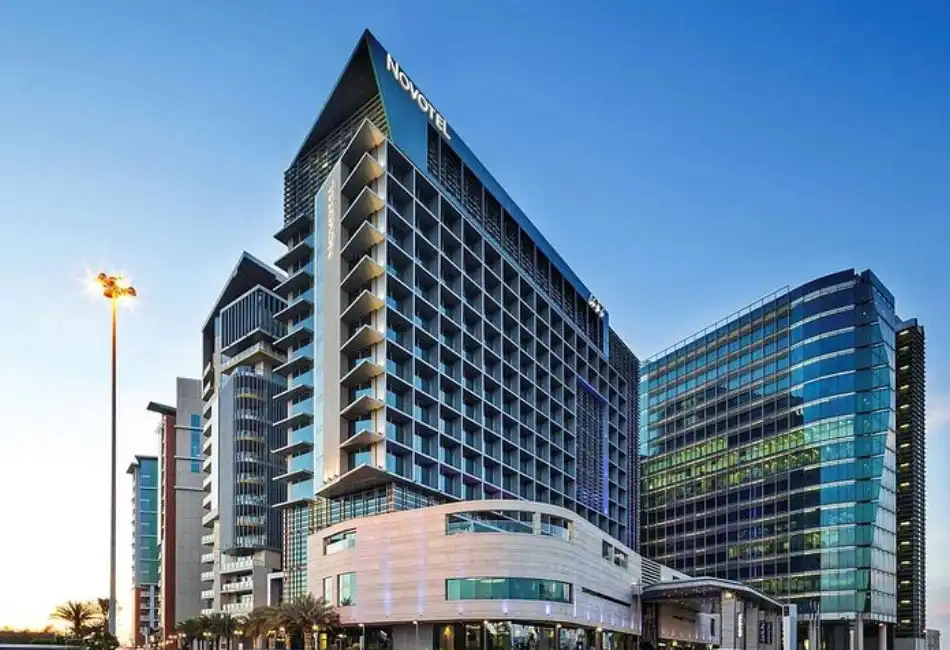 This four hotel is one of the major Khalifa City Hotels, which provides the perfect accommodation for any visitor to Abu Dhabi. Basic amenities which you can find in this best hotel in Khalifa City include a 24-hour front desk, fitness center, indoor pool, and a currency exchange centre. Some other facilities are available in each and every room free internet, a separate bathroom, tea/coffee maker and many others. The hotel also provides transportation to the nearest airport, for which visitors need to pay additional charges. From the Novotel, visitors can easily reach some of the tourist attractions of Khalifa City.
 
Major restaurants situated inside this branch of Marriott include Belgian Cafe, Gabbiano Italian Restaurants, Aroma Cafe, and the pool bar (Al Naseem), featuring a hookah lounge. Mandatory information which you need to know regarding this hotel includes:
Number of Rooms: 361
The number of Meeting Halls: 10
Accommodation Charges: USD 49-199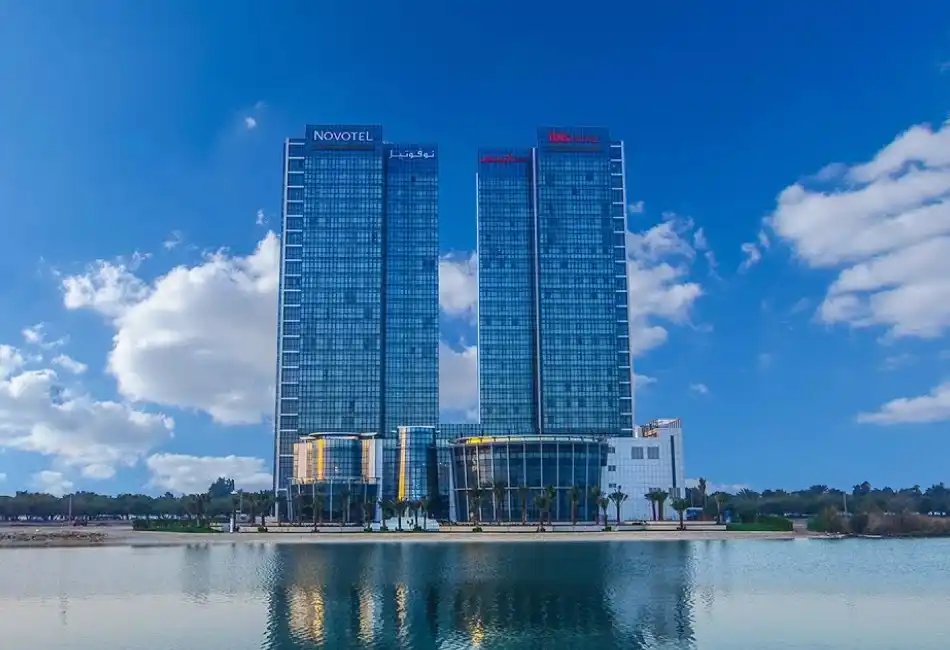 Another one on the list of best hotels in Khalifa City, Abu Dhabi, is the Ibis Abu Dhabi. This hotel is the perfect accommodation for both business travellers and the tourist. The reason for that is the location of the hotel, from which all the major spots of the city are at a fair distance. Some of them are the major business hub, Abu Dhabi Airport, Yas Island, and the Abu Dhabi Exhibition Centre.  
Major highlighted amenities of this hotel are Airport Pick-up, free indoor parking, free internet connectivity, and valet service. Other major locations in Abu Dhabi located nearby this hotel are:
Ferrari World
Sheikh Zayed Grand Mosque
Manarat al Saadiyat 
Falcon Hospital
Warner Bros
Yas Waterworld
Yas Mall
Basic information regarding this hotel which every tourist needs to look out for before confirming accommodation is listed below:
The number of rooms: 294
Accommodation Prices: USD 199-299
Meeting Halls: 1
3. Premier Inn, (Abu Dhabi)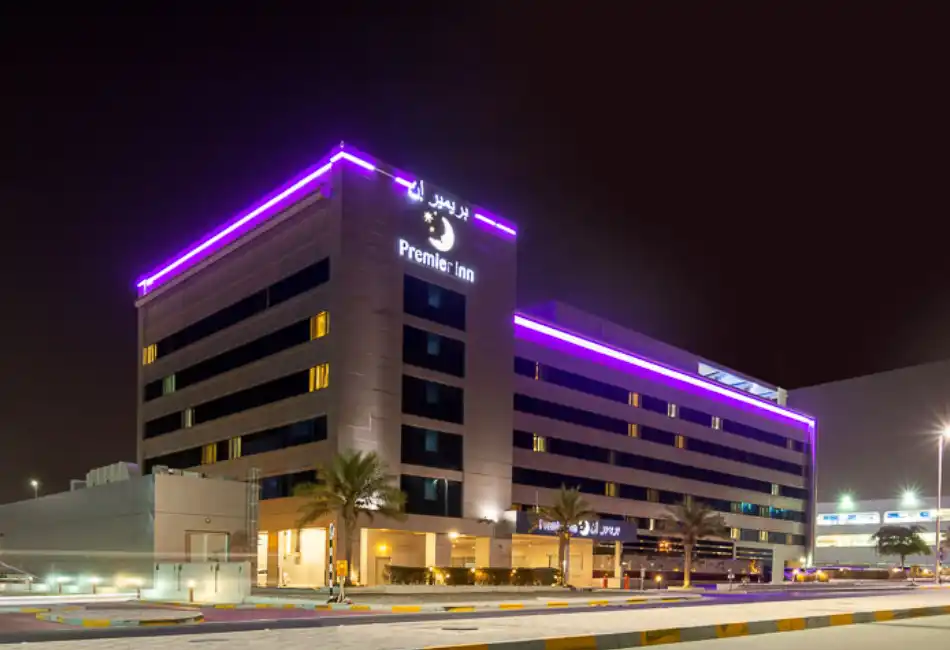 Located adjacent to the Airport, this hotel in Khalifa City, Abu Dhabi, is the perfect accommodation for travelers who frequently visit here either for business purposes or just for a short holiday trip. Major amenities available while staying at Premier Inn include free shuttle service, gym, swimming pool, and 24-hour room service. Along with that, free dry cleaning and childcare service are available for the users. The hotel is the best option for anybody who is looking for affordable accommodation for a family stay. The distance from the airport to the premier is only 500 m. Other useful information regarding Premier Inn Abu Dhabi, one of the best hotels in Abu Dhabi is listed below:
Total number of rooms: 242
Accommodation Range: USD 49-199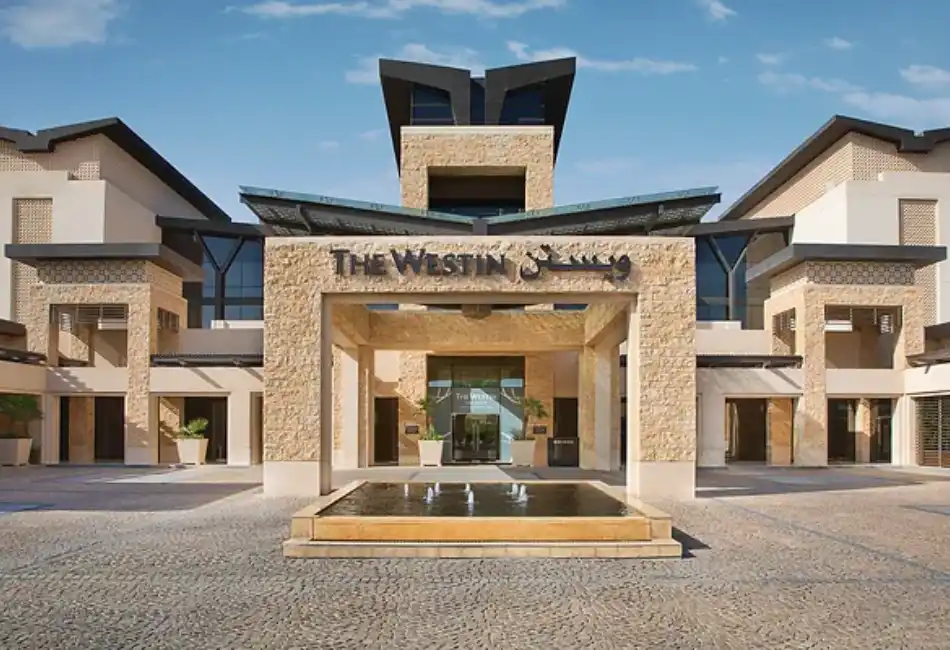 The Westin is one of the major 5-star restaurants located in the heart of Khalifa City. This is one of the best hotels in Khalifa City that fulfills all the amenities and facilities which can be required by any traveler from a 5-star hotel. With amazing rooms and suites for accommodation, the Westin comprises some of the world-renowned restaurants for a perfect dining experience. Major facilities in this hotel comprise free internet & parking, family rooms, an airport shuttle, and a fitness centre. 
In each and every room of Westin, you can find a tea/coffee maker, flatscreen TV, and a private balcony. The Westin is just 15 minutes away from the Airport and comprises around six restaurants, some of which are famous in Abu Dhabi. Below we have listed some of the major tourist attractions near Westin Abu Dhabi:
Sacci
Fairways
The Retreat
The Lounge
Lemon and Lime
Necessary information regarding this hotel is listed below:
The total number of rooms available at the Westin Abu Dhabi: 172
Accommodation Prices: USD 99-399
5. Marriott Hotel Al Forsan (Abu Dhabi)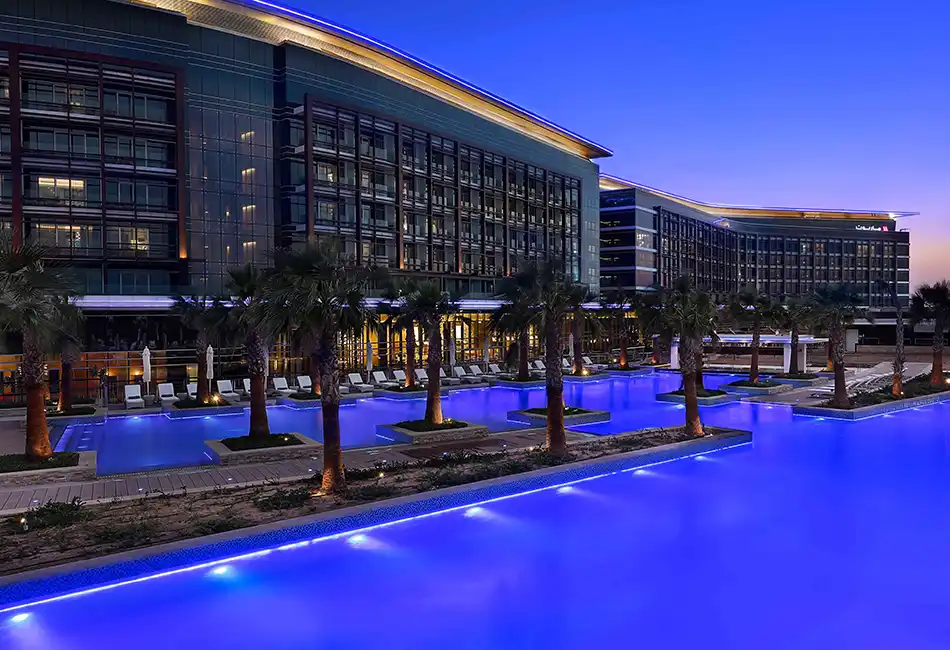 This premium 5-star hotel near Khalifa City, Abu Dhabi, offers the best accommodation, which you cannot find anywhere in Abu Dhabi. Just a short distance from the Abu Dhabi International Airport, the Marriot Hotel Al Forsan is situated in the heart of Al Forsan International Resort. The hotel offers 24-hour housekeeping and room service in all the rooms, where you can find a flatscreen TV, minibar, and a safe, private balcony.
Other amenities available in the Marriott Hotel Al Forsan include free parking, free Wi-Fi, a swimming pool, a fitness center, and babysitting facilities. For Dining, you can make reservations in the following restaurants:
The Grill
Khayal All Day Dining
Lobby Lounge
Talking about accommodation bookings, the following information will be necessary:
A total of 400 rooms are available in Marriott Hotel Al Forsan
Accommodation charges fall in the range of 99-399 USD.
6. Conrad Abu Dhabi Etihad Towers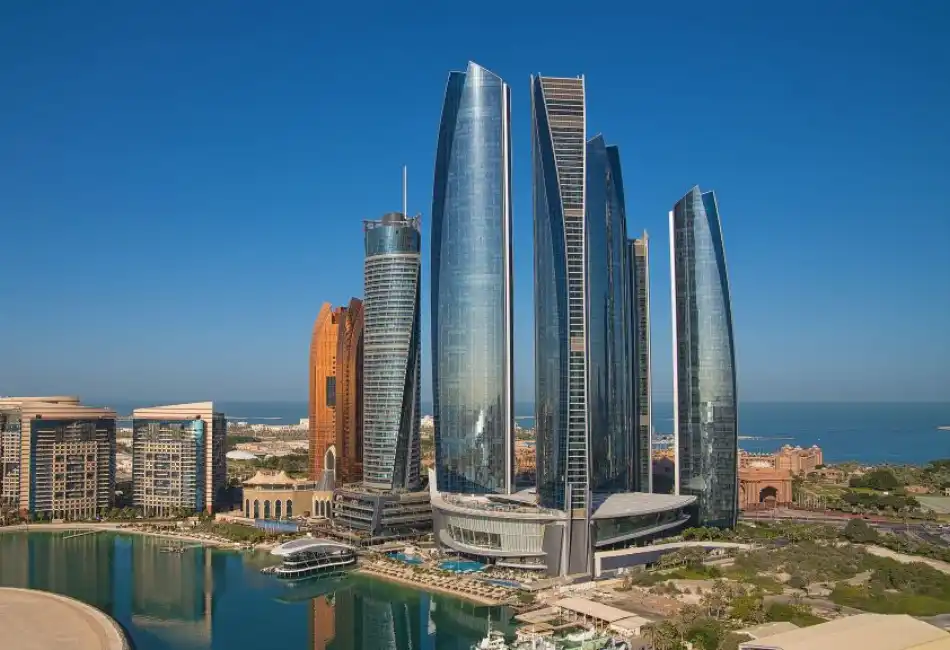 Another 5-star extension by the Hilton, Conrad Abu Dhabi, provides the most luxurious in the Khalifa City of Abu Dhabi. This Khalifa City hotel comprises 12 restaurants and a spa with 12 treatment rooms. The Conrad comprises 576 rooms, among which you can select the suitable one based on your requirement. Major tourist spots which are located nearby this hotel includes Flower Clock, Falcon Circle, The Founder's Memorial, The Yellow Boats Abu Dhabi, and Qasr Al Watan.
Being a major 5-star hotel, the hotel is equipped with all the major amenities like a pool, fitness centre, spa gym, and many famous restaurants in Abu Dhabi. Information related to accommodation in this hotel is listed below:
Total room available for accommodation: 576
Accommodation prices: USD 99-399
7. Royal Rose (Abu Dhabi)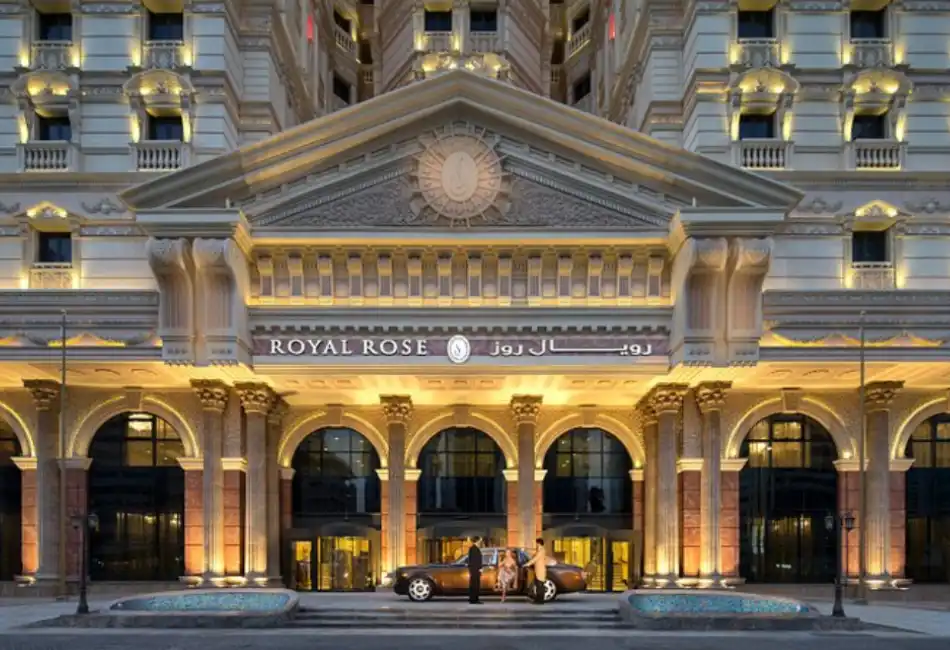 The Royal Rose Hotel is among the top in the list of best hotels in Khalifa City, Abu Dhabi. The hotel comprises 355 rooms, among which you can easily book a suitable one for accommodation based on your requirement. Mandatory facilities that one can find while staying in Royal Rose include a concierge, 24-hour room service & security, a spa, a gym, and a rooftop swimming pool. All of these things make the Royal Rose Hotel a perfect accommodation for anyone looking for peaceful leisure. For dining, you can find three luxurious restaurants inside the Royal Rose, which are listed below:
Brasserie Cafe
Printania
Barocco
Along with that, a total of 7 business/meeting halls are available for hosting special events. The occupancy of these meeting halls goes from 50-350 people with a proper seating arrangement. Required information for accommodation in Royal Rose Hotel is listed below:
Total Number of Rooms: 355
Accommodation Prices: USD 49-299
8. Khalidiya Sheraton Hotel (Abu Dhabi)
One of the major 4-star from where you can perfect affordable accommodation is the Khalidiay Sheraton Hotel. One of the reasons why any tourist or traveler would reserve accommodation at this place is its location. From Khalidiya, you can easily reach some of the major tourist destinations in Khalifa City, Abu Dhabi. Along with a separate private bathroom and shower, each and every room comprises of dining table, hair dryer, and safety deposit box. Various types of rooms available in the Khalidiya Sheraton include Classic Double/Twin rooms, One Bedroom/Junior Suite.
Along with accommodation, the hotel has conference halls, a Spa centre, and some of the major restaurants of Abu Dhabi located inside the Khalidiya. Major features of this hotel are listed below:
A total of 262 rooms are located inside the Khalidiya Hotel, arranged on 18 floors.
In order to get accommodation in this hotel, you need to have a per-day budget in the range of USD USD 39-199
Major room services available in this hotel include free Wi-Fi, airport pickup, air conditioner, widescreen TV, coffee maker, sauna, hair dryer, and many others.
Connect with us For More Travel Related Information:
After accommodation comes the travel part. While planning any trip, people tend to find the most affordable passage to their destination. This is where the tours n travel comes in handy. With us, you can find the best available flights that suit your requirements. Along with that, once you have decided on the airline on whose flight you need to board, you can get all the travel-related information for that flight. Follow the given process in order to find the best flight on tours n travel:
Visit the official website of Tours n Travel Pro.
There on the homepage, you can find the option to look for the cheapest flights available. All you need to do is to provide your travel details like destination and date of travelling.
Through that, we will list the best flights available.
Find a suitable flight based on your accommodation. 
On an Ending Note
From the above discussion, we hope that now you can easily find the best hotels in the Khalifa city of Abu Dhabi. For each of the hotels, we have provided all other relevant details like rooms, accommodation prices, and major tourist attractions nearby. Now, if you need any further assistance, You can also use the live chat option through which you can connect with us instantly.